By Chris Welch
CNN





MINNEAPOLIS, Minnesota (CNN) -- The nation's economic crisis is now playing a role in the debate over same-sex marriage.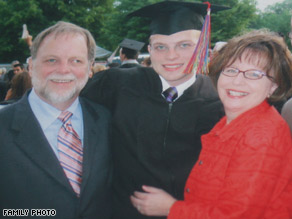 Philip and Randi Reitan, with son Jake, have been fighting for years for marriage equality.
Supporters of same-sex marriage point to its economic benefits, both for those getting married and for states that sanction it. Opponents, however, say same-sex nuptials will actually "devalue" the institution and cost society more in the long run.
In Minnesota, the issue has even split two openly gay lawmakers, and for the purposes of this story, the two men agreed to sit down together for a joint interview.
Minnesota state Sen. Scott Dibble is one of those lawmakers. Dibble, a Democrat, is proposing one of two marriage-equality bills in the state Senate and says now is as good a time as any to propose gay marriage legislation because there is also an economic aspect to the debate. Legally married couples, he says, are generally in better financial shape overall.
"We're in a time of economic crisis, and it's difficult for everyone," Dibble says, "more difficult for those families that don't have access to those basic provisions for economic security."
He says examples include the joint ownership of property; joint credit; the ability to share health-care benefits with a partner; and inheritance rights.
"People are beginning to understand that the rights and benefits and responsibilities and economic relationships that couples have with each other as a result of marriage or marriage-type laws are really basic to our ability to be able to provide for each other," he adds.
"It's really coming to light in context of this economic difficulty that we're in the midst of."
State Sen. John Marty has also introduced a bill that would create gender neutral marriage laws. He agrees on the timing aspect.
"The bad economy makes it more important than ever that we address this," Marty says.
Don't Miss
"We want to be doing this now because of the fact that it's not only the right thing to do but because a same-sex couple needs the health-care benefits. They need the equal protection now because their families are hurting just the same as every other family is."
Amy Johnson, executive director of the gay, lesbian, bisexual and transgender equality group OutFront Minnesota, says that in the long run, routine rights that married couples may take for granted amount to all sorts of hidden costs for coupled but not legally married homosexuals.
"There are real costs to not being married that take away our disposable income," Johnson says, but she stresses that first and foremost is the argument of basic fairness.
"It really is a civil rights issue and an equality issue," she adds. "I would love for the conversation to stay focused on that. [But] to the extent that dollars resonate with some people, fine, I'll take your vote, even if you're not really understanding [the larger argument]."
But that's not the only way the economy has been leveraged in the debate over gay marriage.
Gary Gates, a demographer at the Williams Institute at the UCLA School of Law who researches sexual orientation law and public policy, says the state itself would see a "noticeable economic benefit" from legalized same-sex marriage.
Since a specific analysis of Minnesota has yet to be completed, Gates uses findings from other states and compares them to Minnesota's roughly 15,000 same-sex couples. He guesses the state could see as much as $10 million in additional revenue over the first three years.
"Right now, so few states provide for marriage for same-sex couples that there is a kind of marriage tourism that goes on," Gates explains.
In other words, states that legalize same-sex marriage -- and that are among the first to do so -- would see the biggest uptick in tourism due to couples from neighboring states making the trip to say "I do."
"Assuming that people buy rings and rent halls and cater food and all of those things that go with weddings and, for tourism, that they bring some people along with them and they all stay in a hotel and all of those kinds of activities -- we try to take [that] into account."
"[Gay marriage] creates some positive revenue for the state because it simply means that people who could not get married now can."
And Gates even argues that more jobs would be created.
"If you have this much tourism revenue, it supports this many jobs in the states. So we argue if you get this much additional tourism revenue, then you would expect this many additional jobs."
With an issue like same-sex marriage, dissenters are plenty -- but none perhaps more talked about than Republican state Sen. Paul Koering, an openly gay man.
Since voicing his opposition to the marriage-equality bills just weeks ago, Koering has received hundreds of hate e-mails. But he says he still isn't convinced to support the measures, citing other "pressing issues," such as the economy.

Watch Koering discuss his hate e-mail »
Koering says that, politically, it takes the focus away from the budget and the people who have lost their jobs, homes, or both and compares it to asking for a new football stadium in this economy when the old one is still usable.
"I know that's not a good analogy [and] the gay community is saying it's equal rights and it's the right thing to do, and I understand that. But you have to understand how politics ... works," Koering says. "The electorate will say, 'My goodness ... What's wrong with these people? Why are they talking about this issue (gay marriage) now?' "
Koering also feels the constituents he represents -- a large number of whom are conservative traditionalists -- don't want him to support the legislation.
"Do I want people to have equal rights? Of course I do. Do I think that there will be gay marriage down the road? I think there eventually will. I know that there are some people that ... want it right now. Well, that's not the way things work."
Koering thinks the state on the whole is not ready to accept same-sex marriage and that before he can support it, he'd have to see that others are more willing to approve.
"I think if the gay community really wants to change things they need to go out and change the hearts and minds of people," Koering says, adding that he doesn't see himself as a gay rights "activist."
He also says that, personally, he isn't sure how he feels about the issue.
"This is a tough issue that people are trying to wrestle with and they're trying to accept it, and I'm even trying to wrestle with it myself."
"Just because I'm gay that doesn't mean I have to be for gay marriage."

Watch Sens. Dibble and Koering together »
Tom Pritchard with the conservative Minnesota Family Council also isn't buying the money line. He says the primary argument against gay marriage is that it would de-value heterosexual marriage. He compares it to counterfeit money de-valuing real currency.
"We put in place subprime loans thinking it was going to be a great boon to the economy. Well, there was a big bust and the government has been paying the consequences," Pritchard says. "Well, I think the same thing with marriage."
"Basically we've got a crisis now with divorce, but now we're going to be adding into it counterfeit marriages -- same-sex marriages. And the problem with that is it dilutes the currency -- the value of marriage -- such that I think you're going to have more family breakdown and problems resulting from that."
Pritchard says that breakdown of families would be bad for the economy overall.

Watch Pritchard state his case »
Bringing the economy into the fray has even caused some die-hard gay rights activists to wonder if it's really the best way to go about accomplishing their common goal.
Philip and Randi Reitan have been fighting for equality for their son Jake for years and have even been arrested during peaceful protests. They want nothing more than to see their gay son walk down the aisle just like each of his three siblings did before him.

Watch the Reitans discuss the issue »
Randi Reitan says the economy argument, while it may be true, trivializes an issue so near and dear to them.
"So many times things get back to the money issue, and I think maybe they're trying to get people to understand it," she says. "But for us it's just a matter of the heart."
"It's so frustrating for me as a mom to know that my child does not have equal rights. It's just unbelievable that we can live in America and still have people fighting for their right for equality."
In response to Koering's comments that there are more pressing issues to worry about, Philip Reitan simply shakes his head.
"There are pressing issues, but how in the world does having equality in marriage affect our ability to work on solving our issues?" Philip Reitan asks. "I don't think there's ever a wrong time to pursue justice. Martin Luther King certainly said that justice delayed is justice denied and that there's never a more right time than today, or yesterday."
While the bills have been introduced, the general assumption is they won't go anywhere this year -- and could possibly even sit there for years before any action is taken on them.

In the meantime, the two senators who don't exactly see eye to eye on this say they'll be cordial.
"We don't always agree, but we disagree in a respectful way," Koering says.
E-mail to a friend

All About Same-Sex Marriage • Minnesota