By Ed Henry
CNN Senior White House Correspondent





WASHINGTON (CNN) -- A leading contender to serve as the top deputy to Treasury Secretary Timothy Geithner is no longer under consideration for the post, as 17 top jobs at the department remain unfilled in the middle of the financial crisis.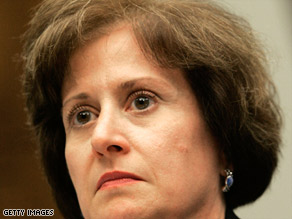 In 2007, Annette Nazareth was serving at the Securities and Exchange Commission.
Annette Nazareth, a former top official at the Securities and Exchange Commission, was being considered for the prestigious post of Deputy Treasury Secretary but is no longer in the running, according to an official familiar with the matter.
While Nazareth was never formally nominated for the job, she did have interviews for the post and a background search was being conducted. But the official stressed that this "was not a vetting issue," such as the tax matters that tripped up nominees such as Tom Daschle and Nancy Killefer.
Nevertheless, the development could be a blow to Geithner as he struggles to deal with the financial crisis at a time when 17 top jobs beneath him remain unfilled at the mammoth agency.
Treasury officials declined to comment on the matter Thursday evening.
But earlier on Thursday, White House Press Secretary Robert Gibbs downplayed any problems when asked at his daily briefing about the fact that there are so many holes to fill at Treasury.
"We have tremendous confidence in Secretary Geithner, and we are working with the committees of jurisdiction in order to get nominees both up to Capitol Hill and through the process of getting them into government," Gibbs said.
Gibbs chalked the delays up to a "very rigorous process. And we're doing it with all involved as quickly as we can."
E-mail to a friend

All About U.S. Department of the Treasury • Timothy Geithner