(CNN) -- As President Obama reversed the Bush administration's limits on embryonic stem-cell research, he said scientific decisions must be "based on facts, not ideology."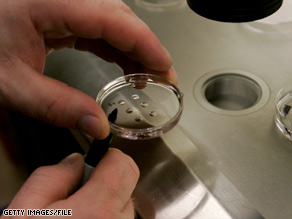 President Obama lifted a ban that limited federally funded embryonic stem cell research.
The president on Monday signaled a clear shift in tone from the Bush administration on a broad range of scientific issues.
Obama overturned an order signed by President Bush in 2001 that barred the National Institutes of Health from funding research on embryonic stem cells beyond using 60 cell lines that existed at that time.
Bush twice vetoed legislation that would have expanded federally funded embryonic stem cell research. Those siding with Bush say scientific advances allow researchers to conduct groundbreaking research without destroying human embryos.
Former Speaker of the House Newt Gingrich told The Washington Post he thought Obama's policy reversal on stem-cell research was an "ideological sideshow."
"It is dangerous for the Obama administration to pick a wide series of fights," Gingrich told the newspaper. "Each of these fights simply drains energy away and increases the coalition which decides it has a collective interest in stopping everything."
Obama also signed a memorandum that directs the White House Office of Science and Technology Policy "to develop a strategy for restoring scientific integrity to government decision-making."
Obama's action is part of a broader effort to separate science and politics, White House domestic policy adviser Melody Barnes said Sunday.

Watch Rep. Chris Smith say Obama is "behind the times" »
But it's not just on the issue of stem cells where science and politics collide.
In his first weeks in office, Obama has taken ambitious steps to untangle what has been an intertwined relationship.
The Bush administration came under frequent criticism from environmentalists who warned the president wasn't doing enough to lessen what they saw as the damaging impact the United States has on the globe.
Don't Miss
Within a week of taking office, Obama directed the Environmental Protection Agency to review a California application to regulate greenhouse gases and told his Department of Transportation to begin implementing fuel efficiency standards passed last year but not implemented by the Bush administration.
If the EPA grants a waiver allowing California to set its own emissions standards, the nation's most populous state will be allowed to require automakers to produce trucks and cars that get better mileage than what is required under the current national standard. Thirteen other states could take similar action.
The Bush administration rejected California's application, agreeing with automakers that the creation of another set of rules regarding pollution standards for some states would be confusing and unenforceable.
In Obama's recent speech to Congress, the president said the United States will double its supply of renewable energy in three years. To do so, he's calling on a new class of workers to be trained in environmental fields. Green jobs training programs will get $500 million from his stimulus package.
By 2025, the Obama administration hopes one-fourth of the nation's energy will come from renewable sources. Over the long term, the president hopes to create millions of new jobs by investing $150 billion in taxpayer money to help private companies develop new sources of clean energy, such as wind, solar and geothermal power.
While environmentalists are encouraged by Obama's focus on renewable energy and stricter emissions standards, some economists are skeptical he can pull the country out of the recession while cleaning up the planet. Read about Obama's balancing act
"Government can push new policies, but it has to prove to be economically competitive or else it will not happen," said Bill Chameides, dean of the Nicholas School of Environment at Duke University.
In another break from the Bush administration, Obama last week overturned a regulation that many environmentalists claim weakened the Endangered Species Act.
The regulation, issued a few weeks before Bush left office, made it easier for federal agencies to skip consultations with government scientists before launching projects that could affect endangered wildlife.
By overturning the regulation, Obama said he had restored "the scientific process to its rightful place at the heart of the Endangered Species Act, a process undermined by past administrations."
Obama hasn't shied away from talking about climate change. He campaigned on promises to eliminate oil imports from the Middle East, reduce greenhouse gas emissions by 80 percent and create a green energy economy.
Bush, a onetime oil executive, was widely criticized for refusing to sign the Kyoto Protocol, which aimed to limit greenhouse gas concentrations.
When Bush delivered a speech on climate change that set up guidelines to slow growth of greenhouse gas emissions in April 2008, Democrats wrote it off as too little, too late.
Bush also came under fire after the White House acknowledged in 2003 that it asked for revisions in a report by the Environmental Protection Agency. Critics said the revisions were made to play down the threat of global warming to humans as well as the ecology, but the Bush administration insisted that it was taking climate change seriously.
But even Sen. John McCain, the former Republican presidential nominee, tried to highlight his differences with Bush on environmental issues. He had a campaign ad emphasizing times he "stood up to the president" and "sounded the alarm on global warming."
Obama on Monday said his goal is "for America to lead the world in the discoveries it one day may yield."

While some have questioned his investments in science and energy, Obama has expressed confidence in his plan for "advancing the cause of science in America."
"By doing this, we will ensure America's continued global leadership in scientific discoveries and technological breakthroughs," he said. "And that is essential, not only for our economic prosperity, but for the progress of all humanity."
E-mail to a friend

CNN's Azadeh Ansari contributed to this report.
All About Stem Cell Research • Science and Technology