By John King
CNN Chief National Correspondent





On CNN's "State of the Union," host and chief national correspondent John King goes outside the Beltway to report on the issues affecting communities across the country. This week, King traveled to Georgia to learn about the toll military service is taking on two veterans.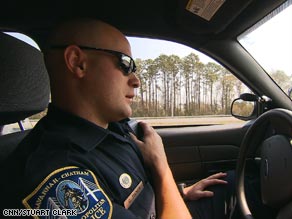 Chris Tucker, who served three tours in Iraq, suffers from hearing, back, foot problems and still has nightmares.
SAVANNAH, Georgia (CNN) -- As his tank rolled into Baghdad in April 2003, Chris Tucker mounted his camera to capture the moment.
"It's history; we made history," he told CNN back then. "It's my first war, hopefully my last war."
He could not have imagined then that six years later, Iraq would still be a combat zone.
"I thought we would get there quick and handle our business and we'd be out," Tucker told us this week. "At least, that's what we were told anyway."
Tucker received a medical discharge from the Army last year and he now is Officer Chris Tucker of the Savannah-Chatham Metropolitan Police Department.
"You still get to serve your community and your country in other ways," he said.
At age 26, he is a veteran of three combat tours. The patrol skills he learned on the streets of Baghdad, Fallujah and Sadr City come in handy as he drives his police cruiser around the neighborhoods of his Savannah precinct.
"Some people -- you will be moving around the corner and they will just run," Tucker said as he drove his cruiser. "And you can tell they are favoring one side -- maybe they have a gun."
He loves his new job, and the joys of fatherhood. His daughter Callie was born three months ago.
'State of the Union'
John King reinvents Sunday talk: More time, for more politics.
Sunday, 9 a.m. ET

"So my life is slowing down," Tucker said. "But I enjoy the slow pace."
But he hasn't left it all behind. As the war hits the six-year mark, Tucker is part of a history -- and a legacy -- still being written as the military tries to better understand the depth of the damage to those exposed repeatedly to the violence.
"I still have the nightmares and wake up and find myself downstairs and I don't know how I got there," Tucker said. "I still see and dream the same things. ... Faces. Kids' faces. People that you have engaged or you have had contact with. ... You see your colleagues blown up. Things like that."
He left the Army with a sour taste. He was sent back for his third tour despite the nightmares, depression, major hearing loss and painful injuries to his back and both feet. Then, the Army decided to give him a medical discharge for his back issues even though Tucker believes he could have recovered with rehabilitation. But he tries not to dwell on his frustration.
"I try to distance myself from it as much as I can, because for me, the more I think about it, the more I reflect on what happened and what we did, the more I think the dreams and the nightmares actually come back."
Tucker is as tired of the Iraq war as anyone, but his experience tells him things can suddenly take a turn for the worse, and so he is skeptical of President Obama's promise to get most combat troops out of Iraq by August 2010.
"I think we are in too deep to pull out," Tucker said. "You can't just commit the way we committed and then say, 'OK, we are done.' ... Politics should not be involved in the way the war is handled."
There will be no more tours for Tucker, but a colleague on the Savannah-Chatham force will soon deploy for his first Iraq tour, and is being ribbed around the precinct, by Tucker and others, as "the grandpa going off to war."
Police Cpl. Randy Powell is 50 years old and became a grandfather just last week.

Watch Tucker and Powell tell their stories »
Powell served nearly 20 years ago in the Persian Gulf War, then in 1992 took an early retirement package when the Army was downsizing after the war. The deal required him to stay on what the military calls the IRR -- the Individual Ready Reserve -- but even as troops were sent to Afghanistan after 9/11 and then to Iraq for repeat combat tours, Powell heard nothing.
Then last year, nearly 15 years after leaving the military, he was told to report to a local Reserve center. Another request came in January of this year. Both times, after some perfunctory paperwork, Powell was sent home.
But when he returned home from work one day last month, an overnight letter from the Army had arrived with orders that he was being activated for an Iraq deployment. First, starting next month, he'll have refresher training on radar systems at Fort Jackson in South Carolina.

"They're kind of shocked," Powell said of his family. But there are no complaints from Powell -- to the contrary.
"I still feel I am fully capable of being a soldier," he told us outside at his police precinct. "Once a soldier, always a soldier. I find that it's an honor to serve within the military. I enjoyed the military while I was in. Kind of looking forward to getting back in the groove."
E-mail to a friend

All About Iraq War • U.S. Army • Barack Obama • Veterans' Affairs