WASHINGTON (CNN) -- Vice President Joe Biden told a group of state leaders Thursday that the Obama administration is set to unveil a series of regulations restricting the use of funds from the recently-enacted economic stimulus plan.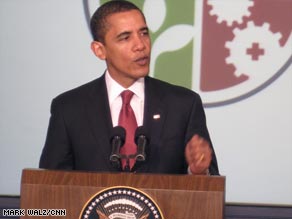 Stimlulus money has "got to be spent wisely," President Obama tells state leaders on Thursday.
The new rules are expected to be rolled out on Friday.
The government needs to go "above and beyond the typical ways of doing business" to help the economy, President Obama said at a White House conference on best practices for implementing the $787 billion package.
His comments came as he joined the conference. Biden addressed attendees earlier in the day.
Obama said if money is being misspent, "we will call it out and we will publicize it."
"A lot of money is coming out quickly [and] it's got to be spent wisely," the president warned.
Biden also emphasized that the new funds are not part of business as usual.
"Let's get this straight. ... This is a different deal," the vice president said. "This is not your usual federal grant going to the states."
Biden indicated that a number of local projects that would ordinarily be considered a legal and appropriate use of federal dollars would be barred under the stimulus plan. For example, he said, states would not be allowed to use any stimulus money to build swimming pools.
The vice president emphasized that the stimulus money could be used for only three goals: to put money directly into the pockets of individual taxpayers, to create jobs in the near term, and to make investments in "jobs of the future," such as solar power or the development of a so-called "smart grid" for electricity.
Fifteen billion dollars in stimulus funds had already been allocated for Medicare assistance, noted Rob Nabors, deputy director of the Office of Management and Budget. Thirty-six billion had been allocated for transportation funds and $7 billion had been spent to assist workers who had lost their jobs.
Biden warned, however, that federal assistance to the states would be cut back if the stimulus dollars are not spent in the most transparent and cost-effective manner.
The administration is "not kidding" about the need for accountability and transparency, he said. "If we don't get this right, folks, this is the end of the opportunity to convince Congress that anything should go to the states."
"Six months from now, if the verdict on this effort is that we've wasted the money, we built things that were unnecessary, or we've done things that are legal but make no sense, then, folks, don't look for any help from the federal government for a long while," he added.
Biden is the Obama administration's point man in overseeing the distribution of the stimulus funds. He is being assisted by former Interior Department Inspector General Earl Devaney, who has been tapped to head a new Recovery Act Transparency and Accountability Board.
E-mail to a friend

All About National Economy • Joseph Biden • Barack Obama