From Alexander Mooney
CNN





WASHINGTON (CNN) -- White House Press Secretary Robert Gibbs launched a sarcastic barb at former Vice President Dick Cheney on Monday, but then the Obama administration spokesman pulled back a bit as he acknowledged the "seriousness" of the subject -- terrorism.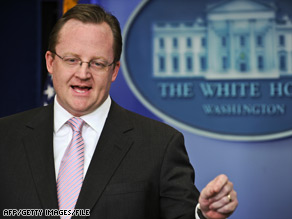 Press Secretary Robert Gibbs sarcastically said Dick Cheney spoke out because Rush Limbaugh was busy.
The comments came at the daily White House briefing, during which Gibbs dismissed Cheney's statement Sunday on CNN that several of President Obama's policies had left the country less safe.
"Well, I guess Rush Limbaugh was busy, so they trotted out the next most popular member of the Republican cabal," Gibbs said, sarcastically linking Cheney to the conservative radio talk-show host.
"I would say that the president has made quite clear that keeping the American people safe and secure is the job -- is the most serious job that he has each and every day," Gibbs added.

Watch Gibbs talk about Cheney »
On CNN's "State of The Union with John King" Sunday, Cheney defended the Bush administration's policies on the handling of enemy combatants.
"I think those programs were absolutely essential to the success we enjoy, of being able to collect the intelligence that let us defeat all further attempts to launch attacks against the United States since 9/11," he said.
"I think it's a great success story. It was done legally, it was done in accordance with our constitutional practices and principles ..."
Gibbs later dialed back his comments, after being asked by a reporter if his remark about Cheney was the official White House tone toward the former vice president.

"Some times I ask forgiveness, rather than for permission," Gibbs said.
"I hope my sarcasm didn't mask the seriousness of the answer ... that for seven-plus years, the very perpetrators that the vice president says he's concerned about weren't brought to justice."
E-mail to a friend

All About Robert Gibbs • Dick Cheney • Barack Obama • Terrorism