By David Fitzpatrick
CNN Special Investigations Unit





NEW YORK (CNN) -- The ex-CEO of the battered insurance and financial services company AIG said Wednesday the bonus plan for executives at his old firm was slipshod in recent years, with employees frequently leaving after receiving retention bonuses.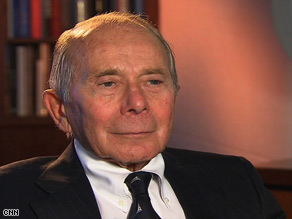 Former AIG CEO Maurice Greenberg says employees got retention bonuses and could still leave the company.
"You get a retention bonus and there was no handcuffs on that," said former CEO Maurice "Hank" Greenberg. "You get a retention bonus and you can leave the next day. There was no commitment, somebody saying, 'You have to stay.' And many people left. They took the bonus, said thank you and left."
Greenberg was ousted from the company in 2005, after more than 30 years as its chief, in the middle of a New York state investigation into its accounting. But he remains the largest single shareholder in AIG, which has been kept alive after massive losses from complicated financial instruments tied to real estate, and he filed a securities fraud lawsuit against the company earlier this month.
A year ago, he launched a campaign to replace all AIG board members, who he said had done a poor job. In his interview with CNN, Greenberg said directors gave themselves a significant pay raise after he left the company.
"It makes me feel terrible," he said. "This was the biggest, greatest insurance company in history."
AIG is under fire for paying executive bonuses ranging up to $4.6 million while requiring a $170 billion taxpayer bailout. Greenberg said a plan under consideration by the Obama administration to break AIG into smaller pieces and then pay back government bailout funds would not work.
"You have to have the right plan," he said. "I think AIG could be rebuilt. I think the best way to pay the government back is to rebuild it. Not to sell off pieces, because you'll never get enough money in the pieces to pay back the government -- the taxpayer. I think that's the wrong strategy."

The financial products division blamed for much of the company's troubles was created during Greenberg's tenure, but he said it made very few risky bets while he was in charge.
The troubles have put new scrutiny on AIG's board of directors, most of whom have remained in their posts during the company's decline.
E-mail to a friend

All About Barack Obama • National Economy