WASHINGTON (CNN) -- AIG CEO Edward Liddy, testifying before Congress Wednesday, addressed one of the key questions surrounding the controversy over $165 million in executive bonuses at his company: When did government officials first learn of them?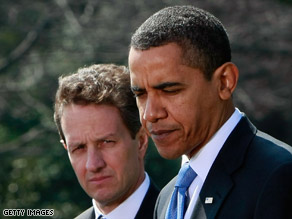 Treasury Secretary Tim Geithner, left, stands with the president at a press conference Wednesday.
According to Liddy, Federal Reserve Chairman Ben Bernanke has known about them for three months and Treasury Secretary Tim Geithner found out about the payments two weeks ago -- a week before Geithner has said he first heard of the bonuses from his staff.
The Treasury Department, however, said Wednesday that Liddy was "incorrect."
"As he told Mr. Liddy, Secretary Geithner first learned the details of the AIG retention payments on March 10, just prior to their conversation," said spokesman Isaac Baker.
Later in the testimony, Liddy repeated his assertion that Geithner knew "a week to 10 days earlier."
For his part, Liddy, who took over at AIG in September, after the government stepped in, said he knew about the bonuses since October but determined they could not be legally altered.

Watch Liddy testify before Congress »
AIG is under fire for awarding the bonuses while being kept afloat by more than $170 billion from the U.S. government's financial bailout.
House Committee on Oversight and Government Reform Ranking Member Darrell Issa, R-California, called Wednesday for Geithner to resign.
"As one of the chief architects of the AIG bailout, Secretary Geithner was in a position to do what any lender of the last resort would do -- negotiate concessions from AIG," he said in a press release. "Secretary Geithner either didn't know about the bonuses, and was grossly negligent, or he did know and failed to bring this to the president's attention."
"Either way, the end result has been a significant waste of taxpayer dollars and he should take immediate responsibility and resign," he added.
Rep. Elijah Cummings, D-Maryland, told CNN Wednesday that it's unclear whether it's "reasonable for Mr. Geithner to know or not."
"The reason why I say that is because of course he has got a lot of balls he's juggling," he said.
Earlier in the day, President Obama defended Geithner, saying he "is making all the right moves in terms of playing a bad hand."
Don't Miss
"There has never been a secretary of the Treasury, except maybe Alexander Hamilton, right after the Revolutionary War, who has had to deal with the multiplicity of issues that Secretary Geithner's having to deal with," he said.
In a letter to Congress on Tuesday, Geithner said AIG must return the bonus money to the Treasury Department.
"We will impose on AIG a contractual commitment to pay the Treasury from the operations of the company the amount of the retention awards just paid," Geithner wrote. "In addition, we will deduct from the $30 billion in assistance an amount equal to the amount of those payments."

Watch Obama lash out at AIG »
That would be a double payment -- essentially a $165 million penalty on AIG for issuing the bonuses.
The move comes after New York Attorney General Andrew Cuomo confirmed in a letter to Congress that this year, after receiving federal bailout money, AIG paid 73 employees bonuses of more than $1 million each.
On Monday, Obama said he would try to block the bonuses which he described as an "outrage."
Obama said he asked Geithner to "pursue every single legal avenue to block these bonuses and make the American taxpayers whole." Obama said he would work with Congress to change the laws so that such a situation cannot happen again.

Watch more of the outrage over the AIG bonuses »
The president also spared Liddy from criticism, saying he got the job "after the contracts that led to these bonuses were agreed to last year."
But he said the impropriety of the bonuses goes beyond economics. "It's about our fundamental values," he said.

Cuomo also wrote that 11 of the employees no longer work for the company. The largest bonus paid was $6.4 million; seven other people also received more than $4 million each. iReport.com: Thoughts on Geithner and AIG
Under pressure from the Treasury, AIG scaled back the bonus plans and pledged to reduce 2009 bonuses, or "retention payments," by at least 30 percent. That has done little, however, to temper outrage over the initial plan.
E-mail to a friend

Ted Barrett, Dana Bash, Ed Hornick, Elaine Quijano, along with CNNMoney.com's David Goldman and Jennifer Liberto, contributed to this report.
All About Timothy Geithner • Barack Obama • American International Group Inc.