By Paul Steinhauser
CNN Deputy Political Director






WASHINGTON (CNN) -- Most Americans like their health care coverage but are not happy with the overall cost of health care, a national poll shows.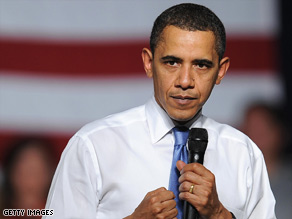 President Obama has said that lowering health care costs will benefit the economy.
More than eight in 10 Americans questioned in a CNN/Opinion Research Corp. survey released Thursday said they're satisfied with the quality of health care they receive.
And nearly three out of four said they're happy with their overall health care coverage.
But satisfaction drops to 52 percent when it comes to the amount people pay for their health care, and more than three out of four are dissatisfied with the total cost of health care in the United States.
"When Americans say they support health care reform, that doesn't mean they want to lose their own coverage or give up their own doctor," said Keating Holland, CNN's polling director. "That's something that the Clinton White House didn't realize in 1993."
Half of all Americans questioned in the poll said they are very confident that no one in their household will lose health insurance. However, 29 percent said they are very confident that they could meet their bills if someone in the household had a major medical emergency.
"It suggests a prescription for health care reform that Americans can swallow -- start by addressing health care costs while allowing Americans to keep their current coverage and their current health care providers," Holland added.

Watch CNN's Elizabeth Cohen's tips for saving money on drugs »

Obama is making an overhaul of health care a major priority of his administration and wants to create a $364 billion fund to pay for it. The president argues that lowering health care costs will benefit the economy.
The CNN/Opinion Research poll was conducted March 12 through Sunday, with 1,019 adult Americans questioned by telephone. The survey's sampling error is plus or minus 3 percentage points.
E-mail to a friend

All About Healthcare Costs • Barack Obama