(CNN) -- President Barack Obama continued a two-day campaign-style swing through California Thursday, announcing the distribution of $145 million in new Housing and Urban Development funds at a town hall meeting in Los Angeles.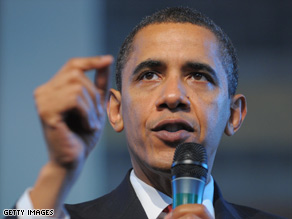 President Barack Obama speaks at a town hall meeting Thursday in California.
The funds, which will target those communities hardest hit by the home foreclosure crisis, "will be used to buy up and rehabilitate vacant and foreclosed homes, and resell those homes with affordable mortgages, (as well as) to provide mortgage assistance and rehabilitation loans for low-income and middle-income families," Obama said to an enthusiastic crowd at the Miguel Contreras Learning Center.
"That's how we'll help people here in California live their dream of home ownership and how we'll start transforming abandoned streets lined with empty houses back into thriving neighborhoods," he said.
Obama also promised that 396,000 jobs would be created or saved in California over the next two years as a result of the $787 billion economic stimulus package.
The president promised that the stimulus funds, combined with broader systemic reforms in areas such as energy, banking and health care would help generate an economic recovery leading to "brighter days ahead."
"We are going to meet these challenges," Obama said. "We will come out on the other side stronger and a more prosperous nation -- that I can guarantee you."
Don't Miss
California has been particularly hard hit by the economic downturn. The state has lost over 500,000 jobs since December, Obama noted. The state's unemployment rate is higher than the national average, and housing prices have fallen 20 percent over the past year.
The president appeared on "The Tonight Show" with Jay Leno on Thursday. Earlier in the day, he toured an electric car development center earlier in Pomona.
Obama also hosted a town hall in Costa Mesa on Wednesday.
E-mail to a friend

All About Barack Obama • Real Estate • National Economy