By Suzanne Malveaux
CNN





WASHINGTON (CNN) -- Treasury Secretary Tim Geithner will push for unprecedented new regulatory powers on Tuesday to seize financial institutions whose failure would pose serious risks to the U.S. financial system, according to two senior administration officials.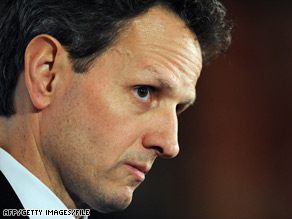 Treasury Secretary Tim Geithner is expected to seek "resolution authority" to deal with the financial crisis.
Geithner is expected to make his case in testimony before the House Financial Services Committee.
With such "resolution authority," the federal government could intervene and aggressively reorganize a troubled business -- such as insurance giant AIG -- before its problems ripple through the global financial system, the administration officials said.
In the absence of such early intervention, AIG ended up needing a taxpayer bailout of at least $170 billion to contain financial instability.
The authority would allow the government to sell or transfer assets and components of a troubled company, including renegotiating or dissolving executive compensation agreements and addressing risky derivatives portfolios, the officials said.

Watch Robert Gibbs make a case for the new powers »
Don't Miss
According to prepared remarks, the treasury secretary is expected to tell the Financial Services Committee that this extraordinary situation is forcing the government "to take extraordinary measures."
"We will do what is necessary to stabilize the financial system, and with the help of Congress, develop the tools that we need to make our economy more resilient and our system more just," Geithner plans to say.
The aim is to "ensure that our country never faces this situation again," the secretary will explain. iReport.com: Sound off on how Geithner is doing so far

"To achieve that goal, the administration and Congress have to work together to enact comprehensive regulatory reform and eliminate gaps in supervision. All institutions and markets that could pose systemic risk will be subject to strong oversight, including appropriate constraints on risk-taking."
Geithner will call for regulators to apply standards not only to protect the financial health of individual institutions, "but to protect the stability of the system as a whole."
E-mail to a friend

All About Economic Crisis • Timothy Geithner • Economic Policy