TEHRAN, Iran (CNN) -- Iran will send an envoy to a U.S.-backed international conference on Afghanistan, Iran's semi-official Fars news agency reported Thursday.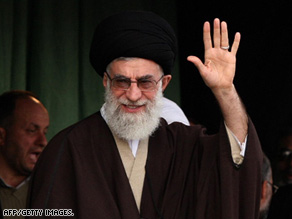 Iranian supreme leader Ayatollah Ali Khamenei addresses thousands of Iranians on March 21.
Secretary of State Hillary Clinton will represent the United States at the United Nations meeting next Tuesday in The Hague, but does not plan "substantive meetings" with Iran, the State Department said.
But the United States "welcomes Iranian participation," State Department spokesman Gordon Duguid said Thursday.
It is not clear who Iran will send to the conference.
Iran also had its first contact with NATO since the Islamic revolution 30 years ago, NATO confirmed Thursday.
An Iranian diplomat spoke with NATO's assistant secretary general for political affairs and security policy, Martin Erdmann, chief NATO spokesman James Appathurai told CNN. He did not name the diplomat or say when the talks took place.
"This is the first in decades, if ever," that NATO and Iran talked, he said.
He called the meeting an informal discussion about Afghanistan. The NATO spokesman said Iran is concerned about drug problems and refugees created by instability in Afghanistan, with which it shares a long border.
"We are also concerned about these issues," he said.
President Barack Obama is expected to make a speech Friday outlining his policy for Afghanistan, where U.S. troops deaths have been rising.
Obama made an overture to Iran last week in a video address marking the Persian new year holiday of Nowruz.
"My administration is now committed to diplomacy that addresses the full range of issues before us, and to pursuing constructive ties among the United States, Iran and the international community," the president said in his message Friday.
Iran's supreme leader Ayatollah Ali Khamenei responded a day later that he sees no change in U.S. policy toward Iran despite the American promise of a "new beginning."
Khamenei said that a change in rhetoric is not enough and that Washington must practice what it preaches, according to the English-language Press TV channel in Iran. He also promised that Iran will change its policy if the United States does so as well, Press TV reported.
The United States and Iran broke off diplomatic relations 30 years ago after the Islamic revolution.
E-mail to a friend

CNN's Shirzad Bozorgmehr and Charley Keyes contributed to this report.
All About Iran • Hillary Clinton