WASHINGTON (CNN) -- A group of senators and other supporters unveiled a bill Tuesday to lift the 47-year-old travel ban to Cuba.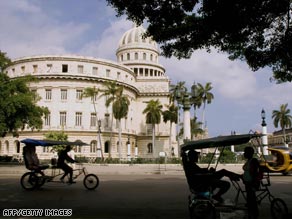 Senators who support lifting travel restrictions to Cuba say it will help improve U.S. relations with the country.
Proponents of lifting the ban have been trying for years but lacked the votes in Congress or a president who supported the measure. But with Democrats holding majorities in both houses of Congress and controlling the White House, supporters said they believe their chance is at hand.
"I think that we finally reached a new watermark here on this issue," said Sen. Byron Dorgan, a Democrat from North Dakota and one of the bill's sponsors.
"When something doesn't work for 50 years, 47 years, clear-headed thinking has to say, 'You know what, it's time to change it,'" he said.
The United States broke diplomatic relations with Cuba in 1961, two years after Fidel Castro assumed power. In 1962, the United States established a trade embargo. Both policies remain in place.
In addition, the United States has imposed other restrictions over the years, most recently under President George W. Bush.
Sen. Richard Lugar, R-Indiana, another sponsor of the bill, issued a draft report in February that said it was time to reconsider the U.S. economic sanctions. Lugar is the ranking Republican on the Senate Foreign Relations Committee.

Watch why some senators want to lift the ban »
"The unilateral embargo on Cuba has failed to achieve its stated purpose of 'bringing democracy to the Cuban people,' " Lugar wrote in a letter accompanying the 21-page draft report.
"The current U.S. policy has many passionate defenders, and their criticism of the Castro regime is justified. Nevertheless, we must recognize the ineffectiveness of our current policy and deal with the Cuban regime in a way that enhances U.S. interests."
Sen. Chris Dodd, D-Connecticut, also supports lifting the travel ban.
He and others said they see an opportunity for improved relations because the ailing Castro ceded power last year to his younger brother, Raul, who is seen as more pragmatic and less idealistic and doctrinaire.
Many Cuban-Americans have opposed any shift in policy, but that view may be changing. Second- and third-generation Cuban-Americans have views that are more lenient than those of older Cubans who came to the United States in the 1960s.
Some Cuban-Americans have a vested interest in lifting the travel ban. Tessie Aral, owner of a Miami, Florida, travel agency that specializes in trips to Cuba, is one of them.
"I think a lot of Americans are going to want to travel to Cuba because it's been the forbidden fruit for so long," Aral said. "For our country to tell us which country we can travel to, I think that's just archaic."
Daniel Erikson, author of "The Cuba Wars," said one problem with lifting the travel ban is the trade embargo, which stops U.S. companies from doing business in Cuba.
"So you would have American tourists traveling to Cuba driving around on Chinese buses, staying at Spanish hotels, eating Canadian food," Erikson said, adding, "The only McDonald's I've ever seen in Cuba is at the military base at Guantanamo Bay."
President Obama has said he favors changes in U.S.-Cuba policy but has not offered details. Cracks in the policy have started to develop.
The $410 billion budget Obama signed this month makes it easier for Cuban-Americans to travel to Cuba and to send money to family members on the island. It also could facilitate the sale of agricultural and pharmaceutical products to Cuba.
Three provisions attached to the omnibus spending bill loosened restrictions enacted by Bush after he came to office in 2001.
Analysts have said they saw the move as a way for the Obama administration to start thawing relations with Cuba before the Fifth Summit of the Americas brings together the U.S. president and 33 other leaders from the Western Hemisphere in mid-April in Trinidad and Tobago.
Other groups also are calling for a new direction.
The nonprofit Brookings Institution said in a recent report that the administration should lift travel restrictions and adopt other measures to start normalizing relations. A group of 19 academics, opinion leaders and diplomats met for 18 months to formulate 33 short-, medium- and long-term initiatives compiled in a report called "U.S. Policy Toward a Cuba in Transition."
But any changes would have to get past Cuban-Americans in Congress, such as Sen. Robert Menendez, D-New Jersey.

"The government is pure and simple a brutal dictatorship," Menendez said in a recent speech. "The average Cuban lives on an income of less than a dollar a day."
Nonetheless, supporters said they believe they can get the bill to the White House for Obama to sign.
E-mail to a friend

CNN's Arthur Brice contributed to this report.
All About Cuba • Fidel Castro • Barack Obama