WASHINGTON (CNN) -- Kansas Gov. Kathleen Sebelius pledged swift action on the burgeoning U.S. health-care crisis during her Health and Human Services confirmation hearing Tuesday, arguing that "action is not a choice. It is a necessity."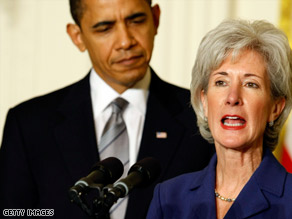 Gov. Kathleen Sebelius says action to repair the health care system is "not a choice. It is a necessity."
"We face a health system that burdens families, businesses, and government budgets with sky-rocketing costs," she told members of the Senate Committee on Health, Education, Labor and Pensions.
Rising health costs "represent the greatest threat to our long-term economic stability ... We can't fix the economy of America without fixing the health-care system," Sebelius said.
Her testimony came on the same day Sebelius revealed that she recently paid nearly $8,000 in back taxes and interest.
In a letter released Tuesday by the Senate Finance committee and the Department of Health and Human Services, Sebelius said she had errors in her 2005, 2006 and 2007 tax returns.
The errors were found by an accountant that she and her husband hired after she was nominated, she said.
"That evaluation revealed unintentional errors, which we immediately corrected by filing amended returns," Sebelius said in the letter.
Sebelius said she did not have documentation for three charitable donations she and her husband made and deducted, and that she had "insufficient documentation" for some business expenses.
She also said she and her husband sold their home for an amount less than their outstanding mortgage balance and mistakenly continued to deduct the interest. The couple also treated a home equity loan the same way.
The couple have now paid $7,040 in taxes and $878 in interest, she said.
Don't Miss
The chairman of that committee, Democratic Sen. Max Baucus of Montana, dismissed the problems, calling them "minor, unintentional errors that were immediately corrected through amended returns."
The committee's top Republican, Sen. Charles Grassley of Iowa, said he was reserving judgment for now.
Sebelius' hearing was chaired by Sen. Ted Kennedy, D-Massachusetts, who has made few public appearances since being diagnosed last year with malignant glioma, an often-lethal type of brain tumor.
"Over the past 10 months, I've seen our health-care system up close. I've benefited from the best of medicine," Kennedy said. "But we have too many uninsured Americans. We have sickness care and not health care. We have too much bureaucracy."
If confirmed by the Senate, Sebelius will take office as the Obama administration begins promoting an aggressive agenda that commits $634 billion to overhauling the health-care system over the next 10 years.
Preventive care and universal coverage will be key to reducing costs in the long term, she said. Pursuing both would cut the significant costs tied to emergency room care and chronic disease, she said.
Echoing the president, Sebelius said that she doesn't support a one-size-fits-all, government-run health-care system. She indicated, however, that she would support "a public option, side by side with private insurers in a health insurance exchange."
Among other things, Sebelius also said she believes the Food and Drug Administration should be given the authority to regulate tobacco. Smoking, she noted, is "probably the most expensive cause of illnesses that land people in the hospital."
Sebelius added that congressional involvement will be critical to the success of any major revamping of the health-care system. She cited lessons learned from the Clinton administration's failed 1993-94 health-care initiative, which was criticized for being formulated with too little input from Congress and elsewhere.
Obama has emphasized repeatedly the need for congressional outreach in the health-care debate. He invited senators and representatives to a recent White House summit and tasked several governors with conducting similar state-level meetings.
Several leading Republicans are nevertheless expressing concern that the Democrats ultimately will try to pass major health-care legislation without seriously consulting the GOP minority.
Specifically, Republicans have cited a controversial procedure called budget reconciliation, which would allow the Democrats to pass a major overhaul of health care without the threat of a Republican-led filibuster.
Sen. Mike Enzi, R-Wyoming, warned Sebelius that if a health-care "reconciliation winds up in the budget bill, it'll be like a declaration of war. ... I hope that that wedge doesn't get thrown in there."
Other Republicans, however, strongly defended the Kansas governor. Former Senate GOP leader Bob Dole, also from Kansas, testified on Sebelius' behalf, arguing that her record had proven her ability to work in a bipartisan manner.
"Sebelius' strength is that she understands health care (and is) willing and able ... to bring parties together in very critical areas," he said.
Sebelius, 60, is the daughter of former Ohio Gov. John Gilligan, who led that state from 1971 to 1975. A two-term Democratic governor in a Republican-leaning state, she previously served as a state insurance commissioner and oversaw Kansas' Medicaid program. She has been credited with boosting health-care assistance for the poor during her tenure.
A number of leading social conservatives have criticized Sebelius for her record on abortion, citing, among other things, her veto as governor of legislation that would have tightened abortion regulations in Kansas.
In vetoing the measure last April, Sebelius wrote that the bill was problematic because it included no exceptions for pregnancies that endanger a woman's life and it allowed individuals to seek court orders preventing a woman from obtaining an abortion, even if the procedure was necessary to save her life.
Catholic League President Bill Donohue recently called Sebelius an "enemy of the unborn." He said her nomination is particularly disturbing because the health and human services secretary is one of the few members of the administration who can directly affect abortion policy.
"Sebelius' support for abortion is so far off the charts that she has been publicly criticized by the last three archbishops of Kansas City," Donohue said in a written statement.
The liberal group Catholics United has come to Sebelius' defense, saying the Kansas governor has taken several steps to lower the abortion rate in her state. The group also has posted excerpts of a 2006 speech in which Sebelius said she opposed abortion.
"My Catholic faith teaches me that all life is sacred, and personally I believe abortion is wrong," she said then. "However, I disagree with the suggestion that criminalizing women and their doctors is an effective means of achieving the goal of reducing the number of abortions in our nation."
Another lightning rod for Sebelius is the attendance by Dr. George Tiller and his staff at a 2007 reception she held at the governor's mansion in Topeka.
The doctor, who specializes in late-term abortions and once received the National Abortion Federation's highest honor, bought the right to attend the reception in a charity auction held for the Greater Kansas City Women's Political Caucus, according to the Topeka Capital-Journal.
Tiller is facing charges relating to his practice. Last month, a district judge denied a motion to dismiss the case, meaning Tiller will go to trial on 19 misdemeanor counts relating to how he procured second opinions for late-term abortions, according to The Wichita Eagle.
Former Sen. Tom Daschle of South Dakota, Obama's first choice for secretary of health and human services, withdrew on February 3 after controversy erupted over his tax records and over his work in a field that some consider lobbying.

E-mail to a friend

CNN's Dana Bash contributed to this report.
All About Kathleen Sebelius • Edward M. Kennedy • Health Care Policy