By John King
CNN Chief National Correspondent






On CNN's "State of the Union," host and chief national correspondent John King goes outside the Beltway to report on the issues affecting communities across the country. This week, King traveled to Tennessee to see how the problems at General Motors are affecting plant workers there.
NASHVILLE, Tennessee -- Ask newly retired autoworker Brenda Carter about President Obama and she cracks a broad, magnetic smile. "I love him," she says emphatically.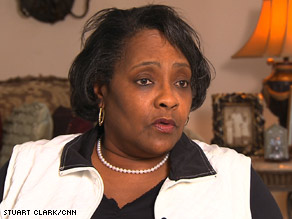 Brenda Carter worked at a GM plant in Tennessee for 20 years before retiring.
But she wishes he would worry about running the country and not take such a heavy hand in running her former employer, General Motors.
"I don't believe the government should actually run the businesses," Carter told us in an interview at her Nashville home. "We need help from them, yes. We need guidance from them. But to just come and say that a person needs to go -- I don't agree with it."
The person at issue is former GM CEO Rick Wagoner, who resigned after being told by the White House that future assistance to the company depended on his stepping aside.
"To say that the president tells a company CEO to leave, I don't believe that should happen," says Carter, an African-American and mother of two whose first job with GM was in Ohio.
We spoke on her first day as a GM retiree, in a home about a 45-minute drive from the Spring Hill, Tennessee, plant where she worked 20 of her 30 years at GM.
'State of the Union'
John King reinvents Sunday talk: More time, for more politics.
Sunday, 9 a.m. ET

It was at Spring Hill where the Saturn brand was born, and Carter teared up as she spoke of being there at the beginning, and on the day the last Saturn rolled off the Spring Hill assembly line.
"One night I woke up, it bothered me so much," Carter said. "I just woke up and I just wrote a poem you know about the Saturn."
In her garage: a 1999 Saturn coupe that has more than 216,000 miles on the odometer and still runs smoothly.
"I love Saturn," Carter says.
The Spring Hill assembly line now produces the Chevrolet Traverse, a crossover vehicle that is part SUV, part minivan. And GM is phasing out the Saturn brand as part of its latest reorganization and its latest effort to win continuing government financial support.
GM spent $1 billion to revamp the Spring Hill plant, and it is considered one of the automaker's most efficient assembly lines. Still, its future is uncertain because along with telling GM that Wagoner had to go, the White House told the company additional federal assistance hinged on a more bold restructuring plan -- meaning additional plant closings and wage concessions are now being debated by the new management team.
It is an uncertain situation that has GM workers on edge, and what was most telling on our visit to Tennessee were the signs of potential political trouble for Obama with the unionized blue-collar workers who are critical to the Democratic Party base.
Many, like Carter, said they supported the president but were nervous about the degree to which the government was making decisions for GM. And many flashed open anger at what they perceive as a double standard in the way the Obama White House is treating the auto industry compared to financial institutions.
"We are in a 60-day countdown to see what happens," said Mike O'Rourke, president of United Auto Workers Local 1853, referring to the White House deadline for GM to present a new restructuring plan.
"How many automobile makers are there in Washington," O'Rourke said. "They are not doing a real good job with the banks, either, so I am a little skeptical."
To be fair, O'Rourke said Obama inherited most of the economic problems, and some of the strategies to deal with those problems, from the Bush administration.
But he turned indignant as he compared administration demands that union autoworkers go back to the bargaining table and renegotiate the wages and retiree benefits in their contracts to statements from senior administration officials that there was little they could do about bonuses given to AIG executives because those payments were guaranteed in binding contracts.
"It's real obvious we've got a double standard in this country," O'Rourke said. "They say we can't break those contracts but by God we can break the UAW contract? Fundamentally, are we really on the right path here in this country? I wonder every day."
At its peak in the heyday of Saturn, the Spring Hill plant had more than 7,000 workers. It has roughly 3,000 now, and while workers here believe they will survive any additional plant cuts, they describe the uncertainty as gnawing.
Mike Herron is the Local 1853 chairman and says the 3,000 plus members "worry day in and day out ... about their jobs and what the future is."
Herron was more positive than Carter, O'Rourke and others we spoke to about the aggressive White House role in GM reorganization decisions, though it was clear he was at least a bit skeptical of the decision to force Wagoner to step down.
"I am always concerned when you get that high of a degree of involvement," Herron said. But, he also noted the GM and its workers have little leverage in protesting government decisions.
"They've thrown the lifeline out there," Herron says. "They have helped us through some very difficult times."
E-mail to a friend

All About General Motors Corporation