By Bill Mears
CNN Supreme Court Producer





WASHINGTON (CNN) -- Alleged terrorists held at a U.S. military prison in Afghanistan can challenge their detention in federal court, a U.S. judge ruled Thursday.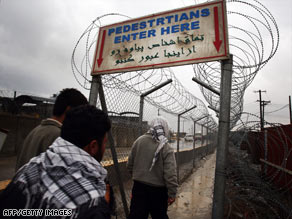 Afghan workers enter Bagram Air Field last month on a walkway protected with razor wire.
District Court Judge John Bates denied a motion from the Obama administration to block four men from appealing their continued imprisonment. Each of the prisoners has been held at Bagram Air Field for six years or more.
Bates concluded these cases "closely parallel" those of accused enemy combatants held in the detention facility at the U.S. naval base at Guantanamo Bay, Cuba, "in large part because the detainees themselves as well as the rationale for detention are essentially the same."
The Supreme Court last year ruled Guantanamo prisoners have a constitutional right to challenge their military custody in the federal court system.
The Bush administration had argued the president retained broad war powers to detain accused terrorists indefinitely, while affording them limited hearings before military tribunals. Bush officials also argued civilian courts have limited jurisdiction to hear detainee appeals.
The new administration has pulled back somewhat from those policies but has still argued foreign nationals held at Bagram have fewer rights than their counterparts in Cuba, since the air base is in the heart of an overseas theater of war.
But Bates said last year's high court ruling could be applied in a broader sense, to ensure the United States is not able to "move detainees physically beyond the reach of the Constitution and detain them indefinitely."
U.S. President Barack Obama has ordered a review of the military's detention policies, and a broad interagency report is set to be realized this summer to provide legal procedures for dealing with future terror suspects.
Don't Miss
The four men at the center of the appeal were reportedly captured outside Afghan borders.
Among them is Haji Wazir, an Afghan citizen captured in Dubai, United Arab Emirates, in 2002 and held at Bagram ever since. Two others were captured in Thailand and Pakistan. It is unclear where the fourth man was captured.
They all deny being terrorists.
Legal and terrorism experts say the Obama Justice Department will almost certainly appeal the ruling, in an effort to preserve its executive authority. Without it, some analysts see greater threats to national security and to U.S. troops operating in hot zones such as Afghanistan.
"This decision creates all sorts of incentives for terror suspects" to find new ways to test the legal and military limits for detaining them, said Charles "Cully" Stimson, former deputy assistant defense secretary for detainee affairs at the Pentagon. "Our enemies are watching all this. Word gets out."
Stimson cited the case of Fadi al-Maqaleh, one of the four Bagram detainees at the center of the ruling. The Yemeni citizen, who was turned over to U.S. authorities in 2003, claims in his appeal he was captured beyond Afghan borders but will not say where. Stimson said other prisoners could make the same claim, and make it difficult for the military to prove otherwise in open court without potentially revealing sensitive intelligence.
But Jonathan Hafetz, staff attorney at the ACLU, hailed the ruling.
"Today's decision is yet another rebuke to the government's claim that it is free to establish law-free zones," he said. "The United States cannot escape the core protections or restraints of the Constitution by imprisoning people at Bagram rather than Guantanamo. Only a complete restoration of the rule of law at all U.S.-run prisons can achieve a return to justice and American values."
The lead case is al Maqaleh v. Gates (06-cv-1669).
E-mail to a friend

All About Afghanistan • Guantanamo Bay • Barack Obama