By Barbara Starr
CNN Pentagon Correspondent





In our Behind the Scenes series, CNN correspondents share their experiences in covering news and analyze the stories behind the events. CNN Pentagon correspondent Barbara Starr and photojournalist Peter Morris are traveling to southern Afghanistan with Gen. James Conway, commandant of the U.S. Marine Corps.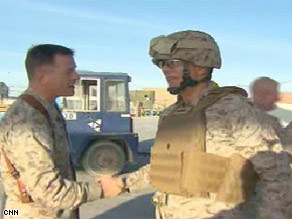 Gen. James Conway, right, explores the front line in Afghanistan. Here he chats with a Marine in Kandahar.
KANDAHAR, Afghanistan (CNN) -- Sometimes you have to be on the road for a few days before you begin to see the pattern of a reporting trip.
Three days in, I realize the pattern that always emerges was right back with me -- a lack of sleep combined with the reality of being in fascinating places and talking to interesting people.
After a day's stop in Ethiopia, we indeed are in Afghanistan -- Kandahar to be exact. It's the place that gave root to the Taliban and the region where al Qaeda found refuge in the months before the 9/11 attacks.
The south is bad. There's no other way to describe it. Marines are being killed by roadside bombs, small-arms attacks and ambushes. These are the techniques in the Taliban arsenal.
Marine Corps Commandant Gen. James Conway knows it's going to get worse before -- or if -- it gets better.
He wants to talk to Marines firsthand. When he gets back to Washington, he is scheduled to testify before Congress. Before then, he wants an upfront, personal look at the front line -- and we are going with him.
Conway is finally where he wants to be -- with his Marines. He's walking the ground, talking about the coming fight, getting ready for what he already says will be a very tough time ahead for American forces in Afghanistan.
This will be my eighth trip to Afghanistan. Security has gotten much worse in the last couple of years. Places I would have gone on my own a few years ago -- no way now.
The Taliban have developed into savvy fighters. For the last couple of years, they have focused less on direct confrontations with U.S. troops that they know they can't win and more on simply terrorizing the Afghan people.
Across the south and east, they have taken control of remote villages, installed their own people in local governments and killed Afghan elders. All of this is fueled by money from the poppy crops. U.S. officials tell me there are new indications that various Taliban and insurgent leaders are banding together to fight the Americans when they get here.
So the next few days should be interesting. I'll let you know how it goes.
E-mail to a friend

All About Afghanistan • Kandahar • The Taliban