By Paul Steinhauser
CNN Deputy Political Director





WASHINGTON (CNN) -- A new poll indicates Americans don't agree with former Vice President Dick Cheney's recent assertion that President Obama's actions have increased the chances of a terrorist attack against the United States.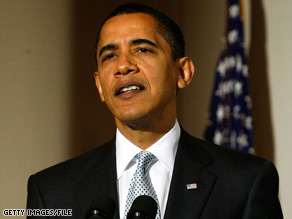 A new poll, conducted April 3-5, shows support for President Obama's plans in Afghanistan.
The CNN/Opinion Research Corp. survey also suggests that most people support the president's plans in Afghanistan -- up to a point.
Seventy-two percent of those questioned in the poll, which was released Monday, disagree with Cheney's view that some of Obama's actions have put the country at greater risk, with 26 percent agreeing with the former vice president.
In a March 15 interview on CNN's "State of the Union with John King," Cheney said the Bush administration's anti-terror strategies "were absolutely essential to the success we enjoyed of being able to collect the intelligence that led us to defeat all further attempts to launch attacks against the United States since 9/11."
"I think that's a great success story," Cheney said. "President Obama campaigned against it all across the country. And now he is making some choices that, in my mind, that will in fact raise the risk to the American people of another attack."
Vice President Joe Biden, in an interview last week with CNN's Wolf Blitzer, fired back, calling Cheney "dead wrong."
On CNN's "The Situation Room," Biden also said that the previous administration left the United States in a "weaker posture than we've been any time since World War II: less regarded in the world, stretched more thinly than we ever have been in the past, two wars under way, virtually no respect in certain parts of the world."
"We are more safe. We are more secure," he added. "Our interests are more secure, not just at home, but around the world. We are rebuilding America's ability to lead."
Keating Holland, CNN polling director, pointed out the partisan divide evident in the results. "By a 53 percent to 46 percent margin, Republicans agree with Dick Cheney," he said. "But more than nine in 10 Democrats believe that Obama has not made the country less safe from terrorism. They are joined by more than seven in 10 independents who don't see an increase in the threat from terrorism since Obama took office."
The CNN/Opinion Research Corp. poll was conducted April 3-5, before an American cargo ship captain was taken hostage by Somali pirates, and before Sunday's successful action by the U.S. Navy to free the captain.
The poll also indicates that a majority of Americans, 53 percent, favor the war in Afghanistan, with 46 percent opposed. And more than two-thirds of those questioned back the president's plan to send roughly 20,000 more U.S. troops to the war-torn country, with 31 percent opposed to sending more American forces to stabilize the situation in Afghanistan. Two out of three say they have a clear idea of what the United States is fighting for in Afghanistan.
But Americans seem to be willing to go only so far. If Obama announced plans to send even more U.S. troops to Afghanistan, the poll suggests that 52 percent would oppose the move, with 45 percent in favor.
And even fewer want to see American action in neighboring Pakistan, a U.S. ally. If U.S. troops in Afghanistan were to find enemy soldiers in Pakistan, only 37 percent of those questioned think the United States should take military action without first getting permission from the Pakistani government. Sixty-one percent oppose such a move.
The CNN/Opinion Research Corp. poll of 1,023 Americans was conducted by telephone, and has a sampling error of plus or minus 3 percentage points.
E-mail to a friend

All About September 11 Attacks • Dick Cheney • Barack Obama