By John King





On CNN's "State of the Union," host and chief national correspondent John King goes outside the Beltway to report on the issues affecting communities across the country. This week, King traveled to Virginia looking at the health of Chesapeake Bay.
CAPE CHARLES, Virginia (CNN) -- In a tiny, struggling town at the southern tip of Chesapeake Bay, Kelly's Gingernut Pub offers a friendly respite on a raw, rainy day and a lesson to politicians in Washington.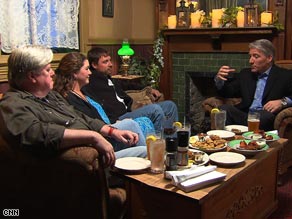 Right to left, CNN's John King talks with Sean Ingram, Sheri Reynolds and Gene Kelly.
Not unlike the nation's capital, political differences are easy to come by.
Owner Gene Kelly, for example, voted for Republican John McCain last November, and sees too much government in the early weeks of the new Democratic Obama administration.
"The thing that really, really worries me is some of the initiatives they're going to put forth, like raising minimum wage from $6.50 to $9.50 an hour," says Kelly in a wide-ranging conversation this week. "$9.50 an hour for a minimum wage person here for me translates into a $14 cheeseburger."
"I don't see too many people coming out and saying, 'Wow I'm going to spend my disposable income going out and having two burgers and a couple of drinks and spending 40 or 50 dollars.' That's the thing that worries me."
Regular patron Sheri Reynolds nods politely and smiles. "I've always been a socialist," she says. She says she isn't so worried about Obama beginning his term with an activist agenda.
Sean Ingram supported Ron Paul because he believes both major political parties are out of touch and beholden to special interests. In Obama he, like Kelly, sees too much reliance on government to solve problems.
'State of the Union'
John King reinvents Sunday talk: More time, for more politics.
Sunday, 9 a.m. ET

"Government should never be trusted," Ingram said. "That's why we had a revolution to begin with."
Reynolds shakes her head a few times, patiently waiting for an opening in the conversation.
"I'm a big supporter of Obama and the administration," says Reynolds, an author and teacher at Old Dominion University. "And I have high hopes, and I have a lot of hope. I think we can come out of it."
The lesson is in the tone.
Significant, sometimes sharp disagreements, over Obama administration policies and more broadly over the role of government. But all aired politely in a neighborly way.
"One of the reasons that I love this place, is that when it all comes down to it, I can have people on either side of me, who have totally different beliefs than me," Reynolds says.
"Because we live near one another and we care about each other's families and pets, and whether or not the bills are getting paid. Whether or not the water's paid. ... And those things are always going to be bigger than concepts, and so much of the time, government is concept rather than practical. "
Kelly agrees. "That's one of the nice things about being in a small town like this. We all have the opportunity generally, when we talk about these things, it's not going to be a deal-breaking issue. "
While in Cape Edwards to explore Chesapeake Bay we visited with a veteran waterman who worries poor water quality is helping making his livelihood a lost craft.
We also stopped at Kelly's Gingernut Pub for our weekly conversation with folks outside of the Washington Beltway. It was a lively and thoughtful group. What follows are some highlights.
The economy
Kelly: "We had a really difficult January and February -- more so than in than in the past couple of years. We have been open for three years now. ... I am optimistic about the summer, but I am worried about the fall and winter if things don't get back at that point."
Reynolds: "It's clearly, obviously a hard time around here. There are a more houses for sale any time you drive down any given street. Although there have been some 'sold' signs that have popped up in the last couple of weeks, and that's promising. ... I'm trying to spend my extra money at the local businesses because I know the business owners and I want them to be able to stick it out. ... Most of us could not sell our houses for what we paid for them. That's for sure."
Ingram: "Springtime always brings me extra activity, but this fall and this winter are really going to tell the tale." (Ingram is a craftsman who does home additions, renovations, and custom carpentry.)
John King: "And so is the government, specifically the new administration. Is it helping? Is it hurting? Or does it not matter what Washington does?"
Ingram: "I think it definitely matters what they do. I don't think spending money we don't have is going to help too too much."
Earth Day
Kelly: "I think we're doing better. I'm not 100 percent convinced that what [money] comes down the tube gets where it needs to be. ... It's sort of like foreign aid: Sometimes you never know where it actually goes."
Reynolds: "We've got a lot of work to do. But I do think people are becoming more aware and caring more about what happens. It's an extraordinary place. I mean this place is an amazing place to live. And to be so separated from big cities and yet so able to reach them, it's definitely worth saving."
Ingram: "You ask is it better 10 years ago, or is it better now, what bar are you going to hold that to. Was it better 100 years ago than it is now? The Appalachian mountains were stripped to nothing but dirt soil 150 years ago and now there's trees. So you know it depends on really how are you going to look at it all. The same people who might consider it raping the land maybe because they crab it eight months out of the year are also people who are stewards of the land, because they live off of it. So it's not an easy question to answer."
King: "Anything out there [besides Obama and his administration] that you see or hear in the debate that makes you say, I want to listen to that guy, that guy makes a lot of sense?"
Kelly: "I think that's one of the biggest problems -- and I consider myself a conservative more than I consider myself a Republican -- but I think that's one of the biggest problems I have right now, is there hasn't been one person out there that has really wanted to connect with us."
Ingram: "I think it's a charisma issue. I think there are people out there saying the right things, but like Ron Paul, I don't think that his political charisma is really there."
Reynolds: "I don't have anything to add here."
E-mail to a friend

All About Barack Obama • National Economy • Virginia