WASHINGTON (CNN) -- President Obama said Tuesday that Iranian leader Mahmoud Ahmadinejad's recent characterization of the Israeli government as "racist" was part of a disappointing pattern that threatens to undermine the prospect of warmer relations between Washington and Tehran.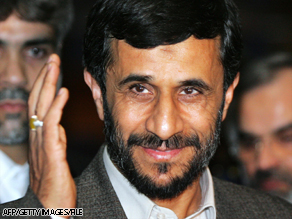 Mahmoud Ahmadinejad on called Israel a "totally racist government" during a U.N. conference on Monday.
"Sadly, [that kind of] rhetoric is not new," Obama said during a White House meeting with Jordan's King Abdullah.
"This is the kind of rhetoric that we've come to expect from President Ahmadinejad. ... Many of the statements that [he has] made, particularly those directed at Israel, [are] appalling and objectionable."
Obama said that Ahmadinejad's remarks were harmful "not just with respect to the possibility of U.S.-Iranian relations, but [to] Iran's position in the world."
Dozens of international envoys walked out during a speech by Ahmadinejad on Monday in which he accused Israel of having a "racist government" and committing genocide.
Speaking at a controversial U.N. anti-racism conference in Switzerland, the Iranian leader accused the West of making "an entire nation homeless under the pretext of Jewish suffering ... in order to establish a totally racist government in occupied Palestine."

While criticizing Ahmadinejad's remarks, Obama nevertheless promised to continue to pursue "tough, direct diplomacy" with the Iranian regime.

Watch Obama comment on Iranian leader's remarks »
"Iran is a very complicated country with a lot of different power centers," he said. "We will continue to pursue the possibility of improved relations and a resolution to some of the critical issues in which there have been differences, particularly around the nuclear issue."
E-mail to a friend

All About Barack Obama • Iran • Mahmoud Ahmadinejad • Israel