WASHINGTON (CNN) -- Veterans of the war in Afghanistan appeared before a Senate committee Thursday, sharing stories of success and failure in the nearly eight-year conflict while offering sharply differing opinions of the current U.S. military and diplomatic strategy.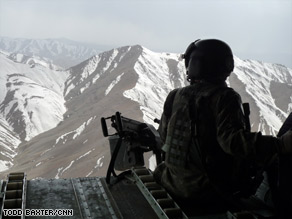 A U.S. soldier flies over Afghanistan aboard a Chinook helicopter in March.
The veterans testified before the Senate Foreign Relations Committee amid the Obama administration's deployment of 21,000 additional troops to the struggling Islamic republic. The president has pledged to ramp up America's military and civilian presence to counter resurgent Taliban and al Qaeda forces.
One retired Marine corporal said the United States had made a mistake by sending troops to solve what is ultimately a political problem in Afghanistan. A retired Army staff sergeant, however, countered that the U.S. had to stabilize the country before it "slips further into violence" and becomes a base for new attacks similar to those launched against the United States on September 11, 2001.
All of the witnesses appeared to share a belief that U.S. forces had done an insufficient job of reaching out to local villagers and presenting a viable alternative to cooperation with anti-Western fundamentalists.
Retired Marine Cpl. Rick Reyes, a former infantry rifleman who was sent to Afghanistan shortly after the September 11 attacks, offered one of the harshest critiques of U.S. military strategy. He said that one of the main problems confronting U.S. soldiers is the virtual inability to separate Taliban combatants from innocent civilians.
"Because our mission was to capture suspected Taliban, and [we] had no successful way of being able to distinguish them, we had no other choice but to suspect the entire civilian population, innocent or not," he said.
As innocent villagers died, he noted, "we weren't fulfilling our objective of capturing terrorists, but instead creating enemies out of civilians. ... As a Marine trying to ensure justice, I began losing sight of why I was there, and [my] conviction began to fade."
Reyes described an incident in which his squad stopped, detained, beat and nearly killed a man who turned out not to have any al Qaeda or Taliban ties.
"He was just traveling down the road to deliver milk to his children. Because of that, that day, those kids went without a father," he said.
Reyes said there were "hundreds of incidents like this. ... Almost 100 percent of the time, we would find that suspected terrorists turned out to be innocent civilians. We began to feel we were chasing ghosts, fighting an enemy we could not see or that didn't allow itself to be seen. ... It all stopped making sense."
He also criticized the military's "flawed system" of compensating translators based on the amount of intelligence they provide. Their incentive is to provide as much intelligence as possible, he said, but there is no way to know if their information is false.
Reyes said he had concluded that occupying Afghanistan and Iraq was a mistake.
And if "it didn't work back in 2001, when we had all the energy, all our resources and most important a very high troop morale," he said, how can it work now?
He warned that the armed forces have been "desperately worn and stretched out too thin" by being forced to serve multiple tours overseas.
"If we aren't killing [U.S. soldiers] on the ground due to a flawed policy, we are definitely killing them in spirit," he said.
Retired U.S. Army Staff Sgt. Christopher McGurk, however, painted a very different picture of local sentiment in Afghanistan's rural areas. He also warned that Washington had "one chance to get [the war] right or face a real possibility of more terrorist attacks that rival those of 9/11 on U.S. soil."
McGurk, a recipient of the Combat Infantryman's Badge, two Bronze Stars and the Purple Heart, told the committee a story about a local villager who had fought against the Soviet occupation in the 1980s but was grateful for the U.S. military presence.
He said the man, now a village elder, told a U.S. patrol that he had been a mujahedeen commander who had lost both of his brothers to Soviet helicopter gunship raids. The man, who walked with a severe limp, said he was initially worried when the Americans first came to Afghanistan but "soon realized we were there to help the Afghan people, not exploit them."
McGurk said the man "expressed the hope to me that we would not abandon Afghanistan again. He shook my hand and touched his heart out of respect and ... said America was good and just."
U.S. Army Reserve Staff Sgt. Genevieve Chase countered that in her experience, most Afghan civilians had come to see the U.S. military as a hostile occupying force.
Chase, a Purple Heart recipient who served as a translator in Afghanistan in 2006, said that the U.S. effort was hampered by the common Afghan memory of being abandoned by the United States after the defeat of the Soviets in the late 1980s.
"The Afghans fully believe we, the Americans, will do it again," she warned.
The United States "threw billions of dollars into civil affairs and reconstruction projects that we thought would win the hearts and minds of the Afghans, while we empowered a local government [that] many local Afghans believed contained [nepotism] and corrupt officials," she added.
Retired Army Capt. Wesley Moore said many of the attacks against U.S. troops in Afghanistan were coming from groups he called "Taliban for hire." A large number of insurgents, he said, were attacking coalition forces only because they were in desperate need of cash and were being generously compensated by the Taliban.
Moore said it was critical for the United States and its partners to help establish an environment in which typical Afghan villagers could find decent jobs and envision a prosperous future without Taliban assistance.
The hearing was opened by the committee's chairman, Massachusetts Sen. John Kerry, who became famous in 1971 when, as a young Vietnam veteran, he condemned the war in Southeast Asia while testifying on Capitol Hill.
Kerry opened Thursday's hearing by drawing numerous analogies between the wars in Vietnam and Afghanistan.
"Once again, we are fighting an insurgency in a rural country with a weak central government," he said.
"Our enemy blends in with the local population and easily crosses a long border to find sanctuary in a neighboring country. Our efforts to win the loyalty of the locals are hampered by civilian casualties and inability to deliver the security that we promised more than seven years ago. We ignore those similarities at our peril."
But, Kerry acknowledged, there are also a number of differences, beginning with the fact that the North Vietnamese "never represented a direct threat to our country."
The extremists "we are fighting today, however, in Afghanistan and across the border in Pakistan, do represent, and have in fact implemented, a direct threat to the security of the United States," he said.
"They planned the attacks on New York and Washington that killed 3,000 Americans ... and they are preparing new attacks on the United States and our interests even as we sit here today."
E-mail to a friend

All About September 11 Attacks • Afghanistan • U.S. Armed Forces Activities