By Gloria Borger
CNN Senior Political Analyst






Editor's note: Gloria Borger is a senior political analyst for CNN, appearing regularly on CNN's "The Situation Room," "Campbell Brown: No Bias, No Bull," "AC360" and "State of the Union with John King," as well as special event coverage.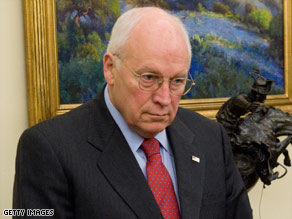 Former Vice President Dick Cheney has become somewhat of a minority party leader, CNN's Gloria Borger writes.
WASHINGTON (CNN) -- Since we are all obsessed with President Obama's first 100 days, let's get this out of the way:
He's shown himself to understand the ways to communicate and lead as president. His aerobic first three months have taken the term "activist agenda" to a whole new level. He stands shoulder-to-shoulder with leaders on the world stage. He reaches out to the opposition, but only so far. He's an "all-in" president -- checking off items on his to-do list almost daily. And more than 60 percent of the public actually likes him -- although they don't agree with all of his ideas.
Enough of that.
Let's look at the first 100 days of the GOP. The new public spokesmen for the minority opposition are polarizing retreads -- former Vice President Dick Cheney and former House Speaker Newt Gingrich. The so-called new ideas are fewer taxes and less spending. They have lost a key congressional election. They have almost unanimously opposed every economic proposal in Congress.
Their reward? In the latest Washington Post-ABC News survey, only 21 percent now identify themselves as Republicans. Even stalwart GOPers are scared by those numbers, which are at the lowest level in 25 years.
"We look like the Keystone Kops," grouses one GOP strategist. "The Americans are at a point where they want something done. And they can't choose when they don't see another option."
Don't Miss
Ouch.
But there's something else going on here, and it's not just about the scattershot GOP opposition.
It's about the American public. It's younger and more diverse. It's not as defined by the debates of the past or attracted to the leaders of those long-ago litigated fights.
Which is why, when Obama decides to ease some restrictions in our relationship with Cuba, for example, it wasn't the end of the world. It would have been controversial, and maybe impossible, for Bill Clinton to have done the same thing, because he would have been worrying about the reactions on his political right, even within his own party.
But, as Time's Mark Halperin recently wrote, there are lots of things Obama has done that Clinton would not have gotten away with -- even including a meeting with The Dead in the White House.
The new president understands the changes in the electorate, because that's what brought him to Washington. And while the Republicans are still preoccupied with the old fights that appeal to their core voters, they haven't figured out a way to get beyond the past -- in leaders or ideas -- to attract the future voters.
For Obama, the new electorate is an ally that allows him to cut back the defense budget without worrying about being called "soft" on national defense. It makes it easier to talk about fixing entitlement programs like Social Security without worrying about alienating older voters.
And when the Food and Drug Administration reversed itself -- by deciding not to challenge a court order that allows the "morning-after" pill to be available to 17-year-olds -- the culture warriors were furious, but couldn't make a dent in Obama's high poll numbers.
It may be, in fact, that this generational shift has done the heavy lifting for the Democrats, removing their party's baggage for them. But in Obama, the party also has a leader who remains a symbol of change even as he deals daily with the inbred Washington establishment.
Obama hasn't lost his central narrative, and it's still working for him. Republicans might want to find some new themes and new ideas, too. They just might be surprised to find out who is listening.
Update: After posting this morning, Pennsylvania Sen. Arlen Specter decided to give the president a 100 days gift: He's switching to the Democratic Party. That means they're one Al Franken away from getting to the magic filibuster-proof number of 60 votes in the Senate.
Specter openly admitted that his prospects for winning the GOP primary were "bleak" -- and he was right. He was running against a very conservative candidate, and getting crushed in the polls. In fact, the polls also showed him to be popular among Democrats and that his race was eminently more winnable as a Democrat.
So, what does this tell us vis-à-vis the GOP party right now: It says, as Specter pointed out, that there is little room for moderates right now. In fact, the Republicans might have been able to avoid Specter's wrath if they had, er, discouraged his conservative GOP opposition, because Specter probably had a better shot of winning statewide, anyway.
But they didn't do enough. And, as RNC chairman Michael Steele told me today, they got "flipped the bird" for it.
Bigger picture here: Pennsylvania is a state that has seen an increase in Democratic registration. About 200,000 Republicans switched and became Democrats last year. And if the Republicans have no room for moderates in the party, Pennsylvania could become one more swing state that turns blue for a long time.
The opinions expressed in this commentary are solely those of Gloria Borger.
E-mail to a friend

All About Barack Obama • Republican Party • Democratic Party