By Candy Crowley
CNN Senior Political Correspondent





Editor's note: How would you rate President Obama's first 100 days? You'll get a chance to make your opinion known on at 7 p.m. ET Wednesday on the CNN National Report Card.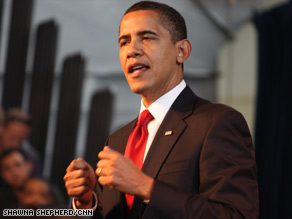 President Obama should expect more dissension from Democratic lawmakers, says CNN's Candy Crowley.
(CNN) -- As President Obama approaches the 100-day mark, he can look back on a short legislative history with near-unanimous support from fellow Democrats.
Mathematically, he is sitting pretty with overwhelming majorities in the Senate and House. But in politics, things don't always add up.
Two incidents in early January may hold big hints about the post-honeymoon period (when it happens) for the president. In early January, more than two weeks before the Obama inauguration, Senate Democratic leader Harry Reid told the Capitol Hill newspaper The Hill, "I do not work for Barack Obama, I work with him."
Reid also let it be known early on that unlike former Vice President Dick Cheney, Vice President Joe Biden would not be allowed to attend Senate Democratic policy lunches.
Two days before the inauguration, House Speaker Nancy Pelosi said she wanted immediate repeal of Bush tax cuts for the wealthy and an investigation into whether the Bush Justice Department illegally fired federal prosecutors.
Obama had already said he wanted to move forward rather than look back and signaled he would not repeal Bush tax cuts on the wealthy but rather let them expire in 2010.
So far, Pelosi has lost on both counts. And she and Reid have been formidable activists for the White House agenda. Still, there is a clear political message: no rubber stamps.
National Report Card
You elected them, now grade them with CNN! Rate the president, Congress and state leaders.
Wednesday, 7 p.m. ET

It is also a message about the Constitution and the co-equal branches of government.
Both Pelosi and Reid have reinforced majorities and in those numbers there is power they have not enjoyed before. They intend to use it when warranted.
In many ways, it is a lesson Democrats learned from Republicans who largely went along with President Bush and now find themselves trying to get away from the legacy of war and trillion-dollar deficits. If you roll over, you may not be able to get back up.
In truth, the stimulus bill was Obama's first big muscle flex and lawmakers were convinced of the urgency of the situation. That it would pass was never a question.
The agenda now is much larger, more complex, more controversial and there is more time to consider the president's priorities: energy, health care and education.
Lawmakers have been looking at the budget particulars, and not every Democrat is on board. The overall budget blueprint is expected to pass both houses, but then it's down to details.
Sen. Evan Bayh leads a band of largely Democratic centrists leery of various aspects of the Obama budget. Many in the group are deficit hawks worried about spending and the deficit it creates.
Don't Miss
Lawmakers from industrial states think the president's "cap and trade program," designed to cut carbon emissions, will hurt their state economies with layoffs and higher energy costs. Farm-state senators want to take a second look at a White House proposal to cut farm subsidies for wealthy farmers.
There are similar concerns on the House side, particularly among conservative Democrats known as "Blue Dogs," 11 of whom voted against the stimulus bill as too expensive.
Running in the president's favor is the fact that the political future of Democrats is tied to his success. It's that old adage, "You dance with the girl that brung ya." But if Democrats are beholden to the president for their new, stronger party, they are more beholden to voters back home.
Moving forward, Obama knows he cannot expect lockstep votes from Democrats. On some issues, he will need to cherry-pick Republicans to pull him over the finish line, as he won the votes of three Republican senators to pass his stimulus bill.
Also running in his favor: There are a lot of Republican lawmakers from Obama states.
That's the thing about bipartisanship -- it's often born of necessity.
E-mail to a friend

All About Barack Obama • Democratic Party • Republican Party • Nancy Pelosi • Harry Reid