(CNN) -- A new tone between Venezuelan firebrand President Hugo Chavez and the new man at the helm of what Chavez calls the U.S Empire.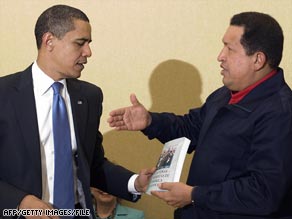 Obama and Venezuela's President Hugo Chavez shook hands but Chavez then gave Obama a book accusing the U.S. of neo-colonialism.
Obama's only concrete step in Latin America in 100 Days was lifting restrictions on Cuban-Americans visiting their homeland.
But former Colombian Foreign Minister Maria Emma Mejia says Obama is fueling a new mood.
She said: "We've received more signals in Obama's first 100 days than we did over eight years with President Bush."
With pressing problems like the bloody drug war sweeping Mexico Obama will need big actions to match big words.
For the last 20 years U.S. administrations have waged but never won a military offensive on narcotrafficking in Colombia. Mejia is urging Obama to not repeat those mistakes in Mexico.
But Colombia-American Chamber of Commerce director Miguel Gomez said: 'The top problem for Latin America must be social inequality and poverty, the issue of economic growth must be the most important point of our agenda."
Gomez and Mejia agree Obama musat learn to live with leftist regimes -- like Venezuela, Bolivia and Ecuador -- even if they have been hostile to Washington.
Don't Miss
And from a forgotten corner comes another message to the U.S. president -- from ancient indigenous tribes, self-declared guardians of the natural world. One spiritual authority warned political and economic progress could not come at the expense of the planet.
With his performance at the Americas Summit, Obama showed a lot of style. Now Latin America will look for the substance.
South Korea
Walk into most book stores in South Korea, and there will likely be a special corner dedicated to Obama-related books.
Not just his own writings, but both critical and observations about the new U.S. president, books dealing with the new first lady, and an army of CDs and other products that offer a variety of Obama speeches for the English-learning hungry South Koreans.
In the children's section of one of the biggest bookstores in Korea there was a number of comic books dedicated to telling Korean kids what a great thinker and role model Obama was.

Watch opinions from around the world »
The infatuation Koreans feel towards all things related to the U.S. first family is a welcome relief for the country's troubled publishing industry.
Among the books are some that deal with the U.S. president's North Korea policies.
When Obama was elected, there were many that expected a much softer policy towards North Korea.
The carrot over the stick approach to getting Pyongyang to agree to disable and dismantle its nuclear facilities.
Not everyone was pleased.
Especially since the new South Korean president put forth a tougher more hard-lined North Korean policy.
But Secretary of State Clinton has so far maintained a firm stance towards Pyongyang and it seems Seoul and Washington so far have seen eye to eye on how to deal with the difficult North Korean situation.
Africa
During the U.S. election campaign and at inauguration Kenyans were mad about Obama. In fact, Kenya was the epicenter of global Obamamania.
After all, Obama's father was Kenyan and he still has family in the west of the country.
After 100 days in office, Obama is still wildly popular here, but that has been tempered by a dose of reality.
"Everyone in Kenya wants to call Obama a Kenyan," says Samson Josiah, a marketing business owner in Nairobi, "but Obama is not the president of Kenya, he is not the patron of Africa, he is the president of America."
The refrain is the same throughout the capital. "We are sort of getting used to him now," says Diana Ngila, a communications student, "We are not really seeing much. I think (we need to see) his actions -- then we can say we are celebrating Obama."
While George W. Bush had dismal approval ratings across the world, here in sub-Saharan Africa he is perceived to have done a lot to fight AIDS and malaria and expand trade links.
And so far, say Kenyans, Obama hasn't said much about the continent. "He has spoken about the issue of piracy," says Ngila, "but not much else."
Kenyans are pleased that Obama has spoken out on the headline grabbing scourge of piracy. But they are hoping for more to be done on the ground.

But while Kenyan's might grumble about the lack of policy attention, they universally find him a likeable president that they feel has changed the viewpoint on America. iReport.com: Grade Obama's first 100 days
"His personality is not at all imposing," says Alan Alabu, a small business owner in Nairobi. "You feel like you connect to him on a human level."
E-mail to a friend

CNN's Karl Penhaul in Mexico City and David McKenzie in Nairobi, Kenya, and Jie-Ae Sohn in Seoul, South Korea, contributed to this report.
All About South Korea • Bolivia • Ecuador