By Paul Courson
CNN





WASHINGTON (CNN) -- When you think about the Smithsonian, images come to mind of old documents, artifacts and other materials from years gone by. But an exhibit unveiled Tuesday hopes to put forth a snapshot of recent history in the making.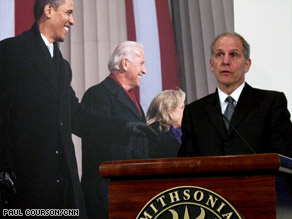 Museum Director Brent Glass says the exhibit "will allow our visitors to see how ... the world experienced history."
"I Do Solemnly Swear" is a photographic display of more than 30 images taken during the presidential inauguration of Barack Obama, including views not seen on television or by the tens of thousands of spectators who were at the event.
Although the opening is timed to coincide with the marking of Obama's first 100 days in office, officials at the National Museum of American History -- part of the Smithsonian -- say the upcoming summer tourist season may draw as many as a million visitors to see the display.
Museum Director Brent Glass, in a preview for the media ahead of Wednesday's opening to the public, said the exhibit "will allow our visitors to see how Americans and the world experienced history on January 20th, 2009."
He said the museum's curators looked through more than 3,000 images to select the ones on display.
One of the exhibit's curators, Shannon Perich, said the images were selected not only for their technical excellence but for the ability of a photo to capture and convey the mood of the day.

Watch an audio slideshow of the exhibit »
For example, as George W. Bush and Obama prepared to motorcade to the Capitol for the swearing-in, the two are seen outside an open door after they emerged from the White House. Bush has one expression on his face, Obama has another, and the viewer is left to imagine that both are thinking about the transition of power soon to come.
Another image is not among the scrapbook photos of spectators and probably went by too fast on television to make an impression, if the view was shown at all.

"This shows how choreographed the event was," explained Perich, pointing to gaffer's tape on the carpet where the swearing-in took place. The president-elect and his family are shown standing at their marks.
Also seen in that photo is a box to stand on for the youngest Obama daughter, Sasha, so the girl could see and be seen during the event.
E-mail to a friend

All About Smithsonian Institution • Barack Obama