WASHINGTON (CNN) -- The White House asked Congress for an additional $1.5 billion for pandemic flu preparations Tuesday as the head of the Republican Party defended its opposition to an earlier request.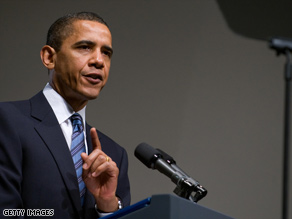 President Barack Obama wants the money be attached to an $83 billion war-spending bill now before lawmakers.
President Obama requested the money be attached to an $83 billion war-spending bill now before lawmakers, White House spokesman Robert Gibbs said. The request comes "out of an abundance of caution" sparked by the outbreak of swine flu in Mexico, Obama wrote in a letter to congressional leaders.
"These funds should be provided with maximum flexibility to allow us to address this emerging situation," he wrote. "Among the uses of these funds could be supplementing antiviral stockpiles, developing a vaccine, supporting the monitoring, diagnostic, and public health response capabilities, and assisting international efforts to stem this outbreak."
At one point, an $870 million request for pandemic flu preparations was in the nearly $800 billion economic stimulus bill that Obama signed in February. But it was cut out of the final bill after Republican objections. Congress included about $156 million for flu preparations in a later spending bill.
Asked about the opposition to that spending, Republican Party Chairman Michael Steele told CNN on Tuesday, "Did we know this at the time of the vote?"
"When this package of spending was presented to the Congress and the American people, what was the presentation that was given by this administration? This was to create jobs," Steele said. "This was to restore our economy. It had nothing to do with why pigs stink. It had nothing to do with any of the stuff we spent money on."
At the time, Sen. Susan Collins, R-Maine, said the money "doesn't make sense" in a bill aimed at creating jobs. Collins is the former chairwoman of the Senate's homeland security committee and had held hearings into U.S. preparations for a pandemic, but said Monday that the funding "should go through the regular appropriations process."
"There is no evidence that federal efforts to address the swine flu outbreak have been hampered by a lack of funds," she said in a statement issued by her office. "It is, however, a problem that the Centers for Disease Control and the Department of Health and Human Services still do not have top positions filled." She urged senators to confirm Kathleen Sebelius as health secretary, which they did Tuesday.
A top Democrat, Sen. Chuck Schumer, also lumped flu research in with "all those little porky things" added by the House of Representatives. But Rep. David Obey, the chairman of the House Appropriations Committee, said Monday that the United States remains unprepared for a flu pandemic and that he would request additional money in the war-spending bill.
E-mail to a friend

CNN's Elaine Quijano contributed to this report.
All About Barack Obama • U.S. House Committee on Appropriations • U.S. Senate • U.S Department of Health and Human Services • Republican Party