By Mark Preston
CNN Political Editor





(CNN) -- Just when it seemed as if the Republican Party's political standing couldn't get any worse, Sen. Arlen Specter decides to ditch the GOP and join the Democratic Party.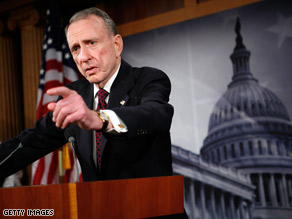 Sen. Arlen Specter "didn't jump, he was pushed," observes one former GOP lawmaker of the party switch.
It was a political calculation on Specter's part --- his chances for re-election as a Republican in 2010 were dim, and he wants to win a sixth term. But there is little comfort for GOP leaders in knowing that Specter's decision Tuesday was driven by personal political motivations.
After all, earlier in the week, Republicans lost a special election for a New York congressional seat that they arguably should have won. In Minnesota, hope that GOP Sen. Norm Coleman will overcome Democratic challenger Al Franken's 300-plus-vote lead is slipping by the day. And public polling shows that Americans think very highly of President Obama but disapprove of how congressional Republicans are handling their job.
On Tuesday, Specter's switch to the Democratic Party was just another "terrible, horrible, no good, very bad day" for the GOP, which is likely to face a filibuster-proof majority in the Senate.

Watch the impact of Specter's move on the political equation »
These are dark days for the GOP, which for the first time in eight years finds itself locked out of the White House and overshadowed by a popular president who seems to be collecting political and policy wins at every turn. And Republicans find themselves without a dominant, national leader.
It is not 2008 presidential nominee Sen. John McCain -- the conservative base neither likes nor trusts him.
It is not House Minority Leader John Boehner, nor Senate Minority Leader Mitch McConnell, who are both concentrating on trying to stop the Obama agenda in Congress as well as win seats in the 2010 midterm elections.
It is not former House Speaker Newt Gingrich, who is focused on his own ideas and a possible White House bid.
It is not Republican National Committee Chairman Michael Steele, who is tasked with the nuts and bolts of rebuilding the party.
And it is not the handful of GOP governors such as Alaska's Sarah Palin, South Carolina's Mark Sanford or Louisiana's Bobby Jindal, who must pay attention to the needs of their states in these tough economic times if they hope to run for president in 2012.
The leader of the Republican Party is actually a chorus of voices that is just now learning how to sing altogether as it tries to rebuild from the ground up after ruling Washington for so many years.
"The reality is there is not going to be a standard-bearer, per se, until the next presidential election," said Alex Vogel, a former senior aide at the RNC, the National Republican Senatorial Committee and for ex-Senate Majority Leader Bill Frist.
Absent a standard-bearer, Republicans acknowledge that they need to work in concert to help overcome Obama's popularity and the Democratic efforts to tag them as the "Party of No." GOP lawmakers, strategists -- even Republican interns -- say that the party needs to present viable ideas and solutions to counter the proposals being offered by the president and congressional Democrats.
"There is an opening there if we are positive and constructive in offering alternatives," said Sen. John Thune of South Dakota, vice chairman of the Senate Republican Conference. "There is an opportunity to make some headway."
One of the biggest tests for Republicans is their ability to prevent Democrats from defining the GOP to the voters before they are able to find their own footing.
"Clearly the Democrats want to portray the Republicans as the 'Party of No' and the challenge for Republicans is how do they become an effective opposition party at the same time defining a clear choice?" said David Winston, a prominent strategist and pollster who works closely with the congressional Republican leadership. "Once people see the Republicans defining a choice, the 'Party of No' goes away."
Obama is getting high marks in his first 100 days; Republicans not so much.
A new CNN/Opinion Research Corp. poll shows that the president has a 63 percent favorability rating. But 31 percent of Americans approve of how congressional Republicans have conducted themselves, a dropoff of 13 percentage points from February when the same question was asked.
Congressional Democrats had a sharper drop from February when 60 percent of Americans approved of how they were handling their job. Now 43 percent believe this to be true.
"Now that the Democrats have started to make the tough choices that a majority party always has to make, they are becoming less popular," said Keating Holland, CNN polling director. "But the GOP has been unable to capitalize on that."
Still, Republicans are starting to get their sea legs after spending months of serious soul-searching and having to watch the likes of Palin, Steele and conservative radio talk-show host Rush Limbaugh dominate the news cycle -- for all the wrong reasons.
A defining moment for congressional Republicans came in February when only three GOP lawmakers broke ranks to support Obama's stimulus bill.
Shortly after the November elections, Republicans en masse began to acknowledge that the party had lost its way on the issue of fiscal discipline during the Bush administration. Their vote against the stimulus bill was the first real test for Republicans to exercise their frustration with what they describe as excessive federal spending. And they're shaping a message around this theme.
"We are united," said Rep. Pete Sessions of Texas, chairman of the National Republican Congressional Committee. "The debt of this country is a national crisis and a national security issue."
Policy goals aside, the GOP must contend with some internal party conflicts that boiled over with the Specter defection: centrists versus conservatives. How much room is there under the "Big Tent?"
"Specter didn't jump, he was pushed," said former Rep. Tom Davis of Virginia, president of the Republican Main Street Partnership, a centrist GOP organization.
Davis, a former National Republican Congressional Committee chairman, warned that unless the GOP embraces centrist Republicans, others could follow Specter out the door. "I think it is pretty self-evident what will happen if they don't change the tune," he said. When asked to clarify if he meant additional party switchers, Davis responded: "Yes, I think that's what happens."
Winston said that challenging Specter with the hopes of defeating him -- a decidedly more conservative opponent was running against him in the GOP primary in Pennsylvania -- has been a strategy employed by conservatives over the years. Now, Winston said the Senate race in Pennsylvania in 2010 "becomes the test of that strategy."

Heading into the next 100 days, Republicans are gearing up for policy fights on issues ranging from energy to health care. Thune said the GOP will need to be strategic on how it approaches all of these issues.
"We are going to have to pick and choose our battles," he said. "We know we are not going to win them all. We have to be selective. We have to realize that going in, to have a good defense you have to be on offense at times."
E-mail to a friend

All About Republican Party • Arlen Specter • Barack Obama