(CNN) -- Bruised by charges from Democrats that they've become the "party of no," Republicans on Thursday are launching an outreach effort to reshape their party's image.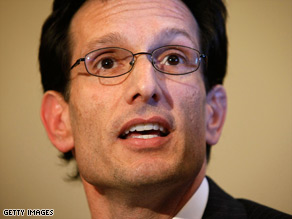 Rep. Eric Cantor says the new council is an opportunity for GOP leaders to have a "two-way conversation" with the public.
The initiative, called the National Council for a New America, will send party leaders across the country for a series of town halls on health care, the economy, energy and national security.
The goal is for the council's panel of experts to listen to the American people and report back to House and Senate Republican leaders with new strategies for rehabilitating the party and winning elections in 2010.
"The National Council for New America is not so much a rebranding effort. It is an opportunity for those of us in office to engage in a conversation, a two-way conversation with the people of this country," said Rep. Eric Cantor, the No. 2 Republican in the House.
"We can begin to lay out the solutions that Republicans have, listen to the American people about the challenges facing this country, and those that they face in the community," said Cantor, who played a key role in developing the effort.

Watch what Cantor says about defining the Republican message »
Members of the council include Arizona Sen. John McCain, the former Republican presidential candidate; former Florida Gov. Jeb Bush; former Massachusetts Gov. Mitt Romney; Louisiana Gov. Bobby Jindal and Mississippi Gov. Haley Barbour, GOP sources familiar with the plans told CNN.
The Republican congressional leadership is also slated to travel the country and attend town hall meetings.
Leaders signing an announcement about the initiative include Cantor, Rep. John Boehner, Rep. Mike Pence, Sen. Mitch McConnell, Sen. Jon Kyl and Sen. Lamar Alexander.
The council kicks off Saturday in Arlington, Virginia. Northern Virginia is one of the suburban areas that has shifted decidedly in favor of the Democrats in recent years -- it helped President Obama become the first Democratic presidential candidate to carry the state since 1964.
Republicans have been forced to rebuild after suffering demoralizing losses in 2006 and 2008. Democrats control the White House, both chambers of Congress and also hold more gubernatorial seats.
And now that Sen. Arlen Specter of Pennsylvania has switched parties, Democrats could reach a filibuster-proof Senate majority of 60 seats if courts uphold Al Franken's disputed recount victory in Minnesota.
"Polls indicate the Republican Party's in trouble. Our most recent CNN/Opinion Research Corp. survey suggests that while the favorable opinion of the Democratic Party has dropped the past few months, it's still 12 points higher among Americans than that of the Republican Party," said CNN deputy political director Paul Steinhauser.
"Is the Democrats' attempts to label the GOP as 'the party of no' working? Maybe," Steinhauser said.
"Our most recent CNN/Opinion Research Corporation poll indicates that by 12 points, Americans have a more favorable view of Democratic leaders in Congress than Republican congressional leaders. And a poll we conducted in early April suggested that people thought President Obama and the Democrats were doing a better job reaching out to cooperate with the other party than were congressional Republicans," he said.
Asked about the state of the Republican Party, Obama cautioned Wednesday that "politics in America changes very quickly."
"I'm a big believer that things are never as good as they seem and never as bad as they seem," he said, noting that he was once 30 points down in the Iowa caucuses -- a state he ended up winning.
"I don't believe in crystal balls. I do think that our administration has taken some steps that have restored confidence in the American people that we're moving in the right direction and that simply opposing our approach on every front is probably not a good political strategy," he said at his prime time news conference.
Given President Obama's command of Washington, it's a good idea for Republicans to take their case outside of the capital, said William Bennett, a CNN contributor and Republican strategist.
"Look, you have to face reality. Barack Obama owns Washington. The Democrats own Washington. So a good place to be is out in the country.
"[Obama's] a huge political figure. I don't agree with him, but the guy blocks the sun. He won the election. He commands everything in sight. He's got a Democratic Congress with him. The media still likes him very much," Bennett said.
"So about the only place to go for Republicans is out into the country. Patience, I think, is important. Putting down markers is important. Defining differences of principle, and then we wait and see."
A letter announcing the new effort notes that "this is not a Republican only forum," according to a copy obtained by CNN from Republican sources.

"While we will be guided by our principles of freedom and security, we will seek to include more than just our ideas," the letter says.
"Since January, the President and the Democratic Majority in Congress have -- rightfully so -- put forward their plan for the future, now we must listen, learn and lead through an honest, open conversation with the American people that will result in building policy proposals that will yield the best results for our nation's long-term success."
E-mail to a friend

CNN's John King and Kristi Keck contributed to this report.
All About Republican Party • Eric Cantor • Barack Obama