By
John King
CNN Chief National Correspondent





Editor's note: On CNN's "State of the Union," host and chief national correspondent John King goes outside the Beltway to report on the issues affecting communities across the country.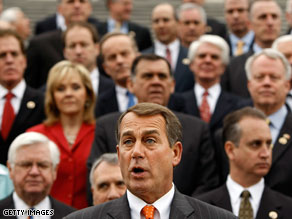 Republican leaders are trying to show that they are not the "party of no."
WASHINGTON (CNN) -- It was hardly the newsiest answer at his 100-day prime-time news conference, but President Obama's careful assessment of the state of the Republican Party is noteworthy.
"You know, politics in America changes very quickly and I'm a big believer that things are never as good as they seem and never as bad as they seem," the president said at the East Room event marking his 100th day in office.
It was a big day for the president, for sure. And, perhaps, a big week for the Republican Party as well, as a number of important and interesting players in GOP affairs began new efforts designed to repair the party's sullied brand in time for the 2010 midterm elections and beyond.
The 2006 and 2008 election results offer plenty of evidence of Republican troubles, as have our travels to 18 states since launching State of the Union in January. Adding his voice, Obama couldn't help but suggest he believes the congressional wing of the GOP is not off to a good start in 2009.
"I don't believe in crystal balls," the president said. "I do think that our administration has taken some steps that have restored confidence in the American people that we're moving in the right direction, and that simply opposing our approach on every front is probably not a good political strategy."
These new efforts are worth watching, because they are designed, in part, to strip Obama of his "party of no" argument.

Watch more on GOP efforts to revive its image »
One, the National Council for a New America, holds its first event this weekend in Northern Virginia.
Its "National Panel of Experts" includes Sen. John McCain, former Florida Gov. Jeb Bush, former Massachusetts Gov. Mitt Romney and two sitting GOP governors: Bobby Jindal of Louisiana and Haley Barbour of Mississippi. The organization was spearheaded by House GOP whip Eric Cantor, and plans call for those GOP leaders and a mix of senior congressional Republicans to hold town halls across the country.
"This forum will include a wide open policy debate that every American can feel free to participate in," the announcement letter reads. "We do this not just to offer an alternative point of view or to be disagreeable. Instead, we want to ask the American people what their hopes and dreams are."
The second organization founded this past week chose the name Resurgent Republic, and has as its leaders two veteran Republican campaign strategists and advisers: Ed Gillespie, who most recently was a Bush White House counselor, and Whit Ayres, a pollster and strategist for an array of GOP candidates in recent years.
In its launch, the organization stressed its view that conservative positions were not as out of favor as Obama's successes might make it appear.
"America remains a center-right country," Ayres argues. "They perceive Barack Obama as a liberal, and they perceive themselves as center-right. They voted for him not to support liberal policies but because he represented change."
Ayres said his research shows that, "Americans are very skeptical about the amount of money that Mr. Obama is proposing to spend, tax and borrow for bailouts and other spending programs."
The launch of these two groups, both with impressive leadership, comes at a crucial time of testing.
Sen. Arlen Specter's switch to the Democratic Party was, without a doubt, a bold political calculation. He was almost certain to lose the GOP primary next year if he remained a Republican.
Still, however, it is a decision that reinforces the notion that moderates are unwelcome in the GOP; and the poor performance of the McCain-Palin ticket in the suburbs last year is one of the major challenges to be addressed in this time of Republican soul-searching.
Democrats also delight in their victory, however narrow, in the recent New York congressional special election. Their argument is that the Republicans made a conscious choice to make the Obama stimulus package the issue in that race and lost.
Our travels bring ample evidence of the GOP identity crisis.
In New Hampshire this past week, Kate O'Leary was scathing in her criticism of the GOP.
"Right now, I have to tell you, I am completely disillusioned with the Republican Party," said O'Leary, who is from Teaneck, New Jersey, and was in the New Hampshire Lakes region on a spring vacation with her family. "I can't even look at any of them and feel anything but disgust because it just seems to me that when Obama tries to do something, he can put up any kind of policy, their first reaction is just like 'no.' That is it. They won't even hear it, they won't even try it."
Back in the Clinton administration, O'Leary said she was happy with a Democratic president in the White House and Republicans running Congress because it forced compromise. But not at the moment, she says.
"Checks and balances would be nice, but they are acting so ... abominable," O'Leary told us during a conversation at the Tilton Diner. "At this point ... let the Democrats have the majority so that we can do something."
Jim Wells, a Republican, said he was worried about too much Democratic power in Washington.
"You need to have a discussion," Wells said. "You can't have a discussion unless there are opposing views."
Wells said he believed Obama's outreach to Republicans "is genuine," though he voiced the opinion many of the president's advisers and Democrats in Congress are less interested in working with Republicans.
"We go through this regardless which party is in there," Wells said. "When the Republicans were in charge, Democrats fought everything. Now, the Democrats are in charge, Republicans are fighting everything. It is a game. But, I would like to see a little more discussion take place."
Asked if there were any Republicans he looked to for advice and direction on major policy debates, Wells took a long pause before mentioning New Hampshire GOP Sen. Judd Gregg.
"Sen. Gregg has some excellent ideas. He has done a very, very good job over the years," Wells said.

Gregg, however, has said he will not seek re-election next year, and at the moment Democrats are seen as the early favorites in that race.
Recruiting candidates is just one of the GOP's many challenges, and one of the tests of whether these new Republican organizations can help the party get back on track.
E-mail to a friend

All About Republican Party • Democratic Party • Barack Obama