By Dana Bash
CNN Senior Congressional Correspondent






HERSHEY, Pennsylvania (CNN) -- He has represented Pennsylvania in the U.S. Senate for nearly three decades, but Arlen Specter now has to reintroduce himself back home.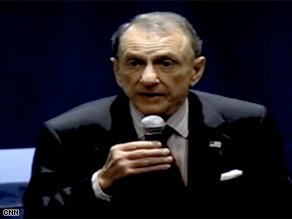 Sen. Arlen Specter, now a Democrat, held a town-hall meeting Monday in Hershey, Pennsylvania.
That was the primary goal at Specter's first town-hall meeting as a Democrat, where he was still stunningly blunt about the real reason he left the GOP: Specter knew he would lose his seat as a Republican.
"Do I want to stay in the Senate, of course I do. Do you like your jobs? Sure you do," Specter quipped to an audience of some 300 at the Hershey Medical Center.
But Specter also made clear he is now on a campaign to convince voters that his abrupt party switch isn't just about him, it's about what he does for them.
"My senior position on appropriations has enabled me to bring a lot of jobs and a lot of federal funding to this state," Specter said.
Over and over, he made a point of telling an auditorium filled with medical faculty and staff about the hundreds of millions of dollars he delivered here, thanks to the power he's accumulated in his 29 years in the Senate.

Watch more of Specter's town-hall meeting »
"Pennsylvania has a big interest in my seniority, a big interest," he said as he described bringing federal dollars to the state with so-called earmarks, and more recently through President Obama's $787 billion stimulus package.
But that argument didn't sway everyone.
Flight paramedic Joe Depatto raised his hand and asked the senator point-blank if his decision to party switch wasn't really just about self-preservation.
"Do you feel that this was more self-serving for you going with the Democrats?" asked Depatto.
Specter's February vote for the stimulus bill was in large part what cost him support from a stunning number of Pennsylvania Republicans such as Depatto, who gave the senator a polite earful.
"I was against the stimulus, because I follow that idea of conservatism -- if you're gonna fail, you're gonna fail," Depatto told Specter, "if you're gonna succeed, your gonna succeed. You don't need to have bailouts."
Specter responded by defending his vote with a now-familiar refrain about how alarmed he was that the country was headed towards an economic slump akin to the Great Depression.
"I decided that the stimulus package needed to be passed," Specter said.
In many ways, the exchange re-enforced Specter's decision to jump to the Democrats. Many conservative voters won't get over his stimulus vote because they saw it as the last straw for a moderate Republican with a long history of defying his party.
But it is that same long, complicated history that Specter is now banking on for re-election as a Democrat.
While many Pennsylvania voters on both sides of the aisle are perplexed by Specter's jump across the aisle, most we talked to shrugged their shoulders.

"It doesn't make me angry, it's just how the world runs," said Maria Singer, a Republican.
"He is still going to vote the same way that he has voted in the past," Democrat Mike Elftman told us, "He's still going to have the same political philosophies, it doesn't really matter if he has a "D" or an "R" next to his name."

E-mail to a friend

All About Arlen Specter • Pennsylvania