WASHINGTON (CNN) -- The president's special representative to Pakistan and Afghanistan tried to reassure members of Congress Tuesday that the Pakistani government is not on the verge of collapse, but does require greater U.S. backing.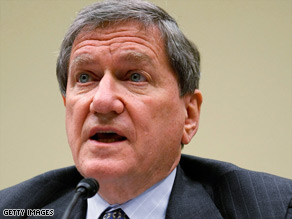 Richard Holbrooke says the goal of the U.S. must be to support and stabilize a Democratic Pakistan.
Veteran diplomat Richard Holbrooke also dismissed rumors that the Obama administration is backing away from its support for embattled Pakistani President Asif Ali Zardari as he is tested by Taliban and al Qaeda extremists.
"Our goal must be unambiguously to support and help stabilize a democratic Pakistan headed by its elected president," Holbrooke told members of the House Foreign Relations Committee.
"I read in the newspapers that the administration is distancing itself from President Zardari in favor of his leading political opponent. ... That's simply not true. We have not distanced ourself from President Zardari."
Holbrooke testified before the committee on a day when concerns over recent Taliban gains in Pakistan and Afghanistan dominated the agenda in Washington.
Zardari and Afghan President Hamid Karzai spent much of the day visiting key congressional leaders and policymakers in advance of meetings with President Barack Obama and Secretary of State Hillary Clinton later this week.
The visits are part of what Holbrooke characterized as an unprecedented series of trilateral meetings aimed at coordinating strategy in the region. They also come in the wake of new concerns that Pakistan's government may not be able to survive recent territorial gains by Taliban and al Qaeda forces.
Obama noted last week that Pakistan's government appears "very fragile" and noted that it doesn't "seem to have the capacity to deliver basic services."
Holbrooke argued that questions about Pakistan's stability do not indicate a withdrawal of American support.
Don't Miss
"We have the highest strategic interests in supporting this government," he said. "We should not allow comments about how serious the issue is to be confused with predictions of a collapse. We do not think Pakistan is a failed state. We think it's a state under extreme test from ... enemies who are also our enemies."
Holbrooke's testimony came the day after two leading members of the Senate Foreign Relations Committee introduced legislation tripling nonmilitary aid to Pakistan.
The Enhanced Partnership with Pakistan Act of 2009, introduced by Sens. John Kerry, D-Massachusetts, and Dick Lugar, R-Indiana, authorizes $7.5 billion in nonmilitary aid to Pakistan over the next five years to foster economic growth and development, and another $7.5 billion for the following five years.
The $1.5 billion per year would triple U.S. aid levels, currently at $500 million per year. In the past, U.S. military aid has surpassed economic and other assistance. The legislation also would separate military from nonmilitary aid, promising that economic aid "is no longer the poor cousin to military aid."
The Kerry-Lugar bill takes into account the fluid situation in Pakistan, leaving military aid to be determined on a year-by-year basis. But it requires Obama to certify Pakistani forces are making progress in combating al Qaeda and the Taliban and not interfering with civilian rule in order for aid to continue, a condition both the Obama administration and the Pakistani government have opposed.
The bill also calls for strict benchmarks to measure the effectiveness of the aid.
In rolling out his new strategy for Afghanistan and Pakistan in March, Obama called on Congress to pass a stronger regional aid bill, versions of which have been introduced in previous sessions of Congress.
Holbrooke reiterated the administration's support for such legislation, while urging Congress to find a "sweet spot" in terms of requirements made on Pakistan's government.
Meanwhile, Pakistan's military continued an assault on militants in Taliban-held areas after they seized territory in violation of an agreement signed this year by Zardari. The deal, criticized by the United States, allowed the Taliban to implement Islamic law, or sharia, in the region where the Taliban is strongest in exchange for an end to fighting.
Holbrooke told the committee that Zardari "had always predicted [the deal would break down]. The first thing he said [in a meeting Monday night] was, 'I told you this deal wasn't going to work.' ... Zardari had opposed it -- and he was forced to agree to it" after the Pakistani parliament passed a resolution urging him to do so.
On Tuesday, Pakistani civilians were ordered to evacuate areas of the Swat Valley, a signal that the country may soon launch another military offensive against the Taliban. Around 500,000 people are now planning to migrate out of the region, according to a Pakistani government official.
Earlier in the day, a suicide bomber in a car filled with explosives rammed into a Pakistani security vehicle at a government checkpoint just outside Peshawar, killing six security forces and wounding 30 people.
The bomb went off in morning rush hour. At least two children on their way to school received head wounds as a result of the blast, authorities said.
For the last two weeks, Pakistani troops have been battling Taliban fighters in Buner and Lower Dir, two districts bordering Swat. Army generals claim to have killed scores of militants.
The United Nations estimates more then 50,000 civilians have fled the fighting in Buner, located a little more then 60 miles (100 kilometers) northwest of the Pakistani capital.
The recent operations are part of the Pakistani army's intensified drive against the Taliban in its restive tribal regions. The Pakistani government has been criticized for not cracking down on militants along its border with Afghanistan. The militant activity in the border region has led the U.S. military to carry out airstrikes against militant targets in Pakistan. The strikes have rankled relations between the two countries.
"Pakistan is a nation that is committed to rooting out extremism and Talibanization in our region, Pakistan's U.S. ambassador Husain Haqqani said Tuesday on CNN's "American Morning."
"As partners, (the United States, Pakistan, and Afghanistan) can certainly contain the Taliban. The important thing is that we don't get into a shouting match with one another. Understand that we are in this together."
After making two visits to Pakistan in the last three weeks, Adm. Michael Mullen, chairman of the U.S. Joint Chiefs of Staff, said Monday that he is "gravely concerned" about recent Taliban and al Qaeda gains across much of southern Afghanistan and in Pakistan.
The Taliban and al Qaeda are "recruiting through intimidation, controlling through fear, and advancing an unwelcome ideology through thuggery," Mullen said.
Clinton and Defense Secretary Robert Gates recently called Taliban gains in Pakistan an "existential threat" to the country.
E-mail to a friend

All About Afghanistan • Pakistan • Richard Holbrooke • Hamid Karzai • Asif Ali Zardari