By Terry Frieden
CNN Justice Producer





WASHINGTON (CNN) -- A preliminary internal report on the Justice Department investigation into the authors of the Bush administration's so-called "torture memos" does not call for criminal prosecutions, but indicates the government might urge state bar associations to take sanctions against the memo writers, according to two government sources familiar with the report.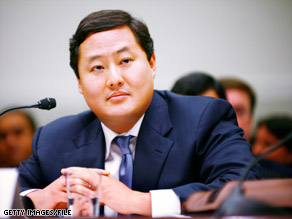 John Yoo is among the former Bush administration lawyers under scrutiny.
The draft, which now goes to Attorney General Eric Holder for approval or revisions, is expected to be finalized in the coming days.
Sources familiar with the report said investigators for the Justice Department's ethics unit, the Office of Professional Responsibility, has focused heavily on internal communications involving former Office of Legal Counsel lawyers John Yoo, Jay Bybee and Steven Bradbury.
The three attorneys were top officials who provided legal guidance, including permissible interrogation procedures to the CIA and other executive branch agencies. Guidance written by Bybee and Yoo in the aftermath of the September 11, 2001, attacks allowed for harsh interrogations techniques which later were withdrawn. The draft report is said to be critical of Yoo and Bybee in particular.
A statement late Tuesday by Sens. Richard Durbin, D-Illinois, and Sheldon Whitehouse, D-Rhode Island, who received an update from the Justice Department Monday night, appeared to confirm information that Bradbury's role may not be as strongly criticized.
Don't Miss
"While we are disappointed to learn that DOJ [Department of Justice] allowed Steven Bradbury to participate in OLC's 'review and response' to the report -- despite the fact that he played a leading role in drafting the memos under review -- we look forward to the prompt completion of this report," the senators said.
The Justice Department update, which was in the form of a letter to the senators, appeared to signal what government sources acknowledged -- that the most likely sanctions against Bybee and Yoo would be potential disciplinary action by state bar associations that could suspend or revoke a law license.
"Department policy usually requires referral of OPR's misconduct findings to the subject's state bar disciplinary authority," said the letter from Assistant Attorney General Ronald Weich to the lawmakers.
Although the letter said it's too early to promise the full report will be made public, it is likely to be released in the near future Justice Department sources said Tuesday.
The letter to the Democratic lawmakers said, "OPR will provide a final report to the attorney general and deputy attorney general. After any additional review they deem appropriate, the department will determine what disclosures should be made."
Durbin and Whitehouse, in their statement, responded by saying, "We are pleased by the strong implication in the letter that ... the pledge to release the report will be honored."
E-mail to a friend

All About U.S. Department of Justice • Eric Holder