WASHINGTON (CNN) -- Vice President Joe Biden prodded Israel on Tuesday to halt the expansion of its settlements on the West Bank, a move he called a necessary step toward ending the decades-old Israeli-Palestinian conflict.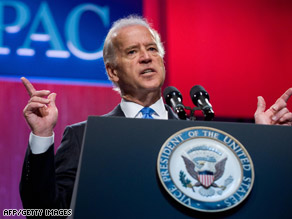 Vice President Joe Biden says Israel must work "toward a two-state solution."
Biden told the annual conference of the influential American Israel Public Affairs Committee that Israel's new prime minister, Benjamin Netanyahu, has "important ideas" about the peace process. But he said, "This is a show-me deal, not based on faith."
Biden said, "Israel has to work toward a two-state solution. You're not going to like my saying this, but not build more settlements, dismantle existing outposts and allow the Palestinians freedom of movement."
Biden's call came as President Obama prepared for a private meeting with Israeli President Shimon Peres.
Netanyahu has supported expanding Israeli settlements and has so far avoided any public endorsement of a Palestinian state. His comments have cast doubt on the future of the stalled Israel-Palestinian peace process.
But Peres, whose post is largely ceremonial, told CNN on Monday that Netanyahu has agreed to follow the commitments of previous governments and suggested he was avoiding the reference to avoid friction with partners in his conservative coalition.
"He has to keep them together. He must, like many politicians, do what [ex-U.S. Secretary of State Henry] Kissinger used to call constructive ambiguity," Peres said.
Netanyahu told AIPAC at a Monday evening appearance via satellite that Israel would resume negotiations "without any delay and without any preconditions."
He said Israel would work with friendly Arab governments to improve the Palestinian Authority's capability to crack down on factions that launch attacks on Israelis and help boost economic development in the Palestinian territories that Israel has controlled since the 1967 Mideast war.
"I believe that this triple track toward peace is a realistic path to peace," he said.
But Saeb Erakat, the Palestinian Authority's chief negotiator, said Netanyahu must explicitly endorse the goal of a Palestinian state to demonstrate "that the Palestinians have a partner for peace."
"Without a political settlement, meaning an end to Israel's occupation and the establishment of an independent and viable Palestinian state, talk of economic peace will be seen for what it is, namely an attempt to normalize and better manage the occupation," Erakat said in response to Netanyahu's speech.
James Rubin, a former State Department official in the Clinton administration, said that Netanyahu's reluctance appeared to be a bargaining tactic.
"He's trying to come over to the United States, meet with President Obama and get something for saying the obvious, what everybody agrees to -- that there needs to be a two-state solution," Rubin said. "He's seeing if he can get something out of America for doing that."
E-mail to a friend

All About Israel • Shimon Peres • Joseph Biden • Barack Obama • Benjamin Netanyahu