WASHINGTON (CNN) -- The Democratic leader in the Senate promised Sen. Arlen Specter he would retain his seniority when he jumped from the Republican to the Democratic Party, Specter said on Wednesday, but faced "pushback" from other Democratic senators.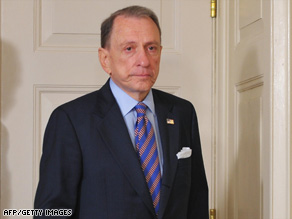 Sen. Arlen Specter says Pennsylvania "has a big interest" in his seniority.
The full Senate voted Tuesday to strip Specter of his seniority, dropping him to the bottom of the pile on every committee he sits on.
"Sen. [Harry] Reid said that I would maintain my committee assignments and that my seniority would be established as if I'd been elected in 1980 as a Democrat," the long-serving Pennsylvania senator told CNN's Dana Bash.
Reid's spokesman, Jim Manley, said, "There was no miscommunication."
Reid on Wednesday tried to defuse the brewing dispute in comments to CNN's Wolf Blitzer.
"Arlen is a senior member of the Senate and that is significant. We can try to work something out with the individual chairmen and I'm certainly doing that," he said.
The Senate action came on a resolution -- passed on a unanimous voice vote -- that set out committee assignments for the entire Senate.

Watch Reid and Specter give their sides of the story »
Don't Miss
Specter suggested other Democratic senators objected to his moving ahead of them in the all-important seniority ranks.
"The caucus has some concerns, some people who would be passed over, and we're going to work it out," he said. "I'm confident that Sen. Reid's assurances on my seniority will be fulfilled."
Sen. Debbie Stabenow, a Michigan Democrat, suggested Specter had irritated his new colleagues by telling The New York Times the Minnesota courts should "do justice" by declaring Republican Norm Coleman the winner of a bitterly disputed Senate race against Democrat Al Franken.
"I think it made many members very upset," Stabenow said in answer to a question about whether Specter would have maintained his seniority if he had not made the comment. "It was definitely something that concerned everybody. Yeah."
Specter's comments to the newspaper appeared about the same time the Democrats were making their decision.
Sen. Barbara Mikulski, a Maryland Democrat, phrased the concerns of the caucus more generally.
"We have people here who have worked very hard to achieve their seniority on their committees and subcommittees, and we should keep the same leadership we've had," she said. "It's not personal to Sen. Specter."
Reid urged Democrats to focus on the big picture.
"I think that everyone should just try to relax and remember that he is a Democrat. We're doing our best to make him happy, and as a Democrat, I think he is," Reid said.
There is more at stake in the seniority debate than Specter's ego or bragging rights.
The saying "rank has its privileges" holds true in the U.S. Senate as in few other places. With seniority comes the ability to influence legislation.
Specter has been citing his seniority on the powerful Appropriations Committee, the one that doles out money, as he hits the campaign trail as a Democrat.
"My senior position on appropriations has enabled me to bring a lot of jobs and a lot of federal funding to this state," Specter said at a town hall meeting on Monday.
He repeatedly made a point of telling an auditorium filled with medical faculty and staff about the hundreds of millions of dollars he delivered to Pennsylvania, thanks to the power he's accumulated in his 29 years in the Senate.
"Pennsylvania has a big interest in my seniority, a big interest," he said.
As it stands, Specter is junior to Montana's Sen. Jon Tester, who has been in the Senate since 2007.
He also lost his top position on the Senate Judiciary Committee, just as it gears up to question President Obama's yet-to-be-named nominee to replace Justice David Souter.

Specter was in the driver's seat when the Senate Judiciary Committee grilled the two newest Supreme Court justices in 2005. But he will be the very last to speak this time -- after even Sen. Ted Kaufman of Delaware, who has been a senator for four months.
In fact, only two of the 18 other senators on the committee have been in the upper house longer than Specter, and he has been in the Senate longer than seven other committee members put together.
E-mail to a friend

CNN's Ted Barrett, Dana Bash and Kamalpreet Badasha contributed to this report.
All About Arlen Specter • U.S. Senate Committee on Appropriations • Pennsylvania