(CNN) -- Just 11 months ago, Defense Secretary Robert Gates selected Gen. David McKiernan to head the war in Afghanistan.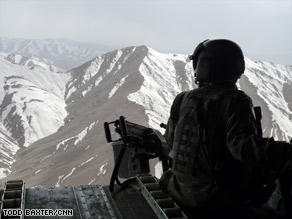 President Obama has pledged to increase troops in Afghanistan as part of his strategy for winning the war.
But now, President Obama has laid out his strategy and has picked his team for the 7-year-old conflict, in essence making Afghanistan his war.
Gates announced Monday that he was replacing McKiernan, who served in the U.S. Army for more than 30 years.
Lt. Gen. Stanley McChrystal, a former special operations chief, will take over as the top commander in the war-torn region.
In announcing the switch, Gates said, "Nothing went wrong, and there was nothing specific," but he decided "fresh eyes" are needed to reverse the course of the war.
The decision came after talks with Adm. Michael Mullen and Gen. David Petraeus, and with the approval from Obama.

Watch Gates announce the decision »
Gates brushed off suggestions that bringing in "fresh eyes" at this time could be viewed as an act of desperation, given the timing of the announcement.
"I think that ... with agreement on a new strategy, and a new mission, and a new national approach and international approach in Afghanistan, that if there were to be a change, this is the right time to make the change, at a time when we are at the beginning of the implementation of a new strategy," Gates said.

Watch what's behind the firing of the top commander »
"And it is in that context that I emphasize that the focus here is simply on getting fresh thinking, fresh eyes on the problem, and in how we implement the strategy and the mission going forward," he added.
Gates just returned from a trip to Afghanistan, where he met with troops and commanders in the field. Gates said he thought it "critically important to get a sense from the ground level ... what the needs are, what the challenges are and what the solutions to some of the problems are."
McChrystal is a senior official on Mullen's staff with vast experience in counterinsurgency warfare -- which many say is urgently needed in Afghanistan.
Don't Miss
The former Green Beret has also been credited with playing a key role in the capture of Saddam Hussein, and he led the group that killed Abu Musab al-Zarqawi, the leader of al Qaeda in Iraq.
But McChrystal, whose appointment is subject to Senate confirmation, came under scrutiny following the 2004 friendly fire death of Pat Tillman, who gave up a pro football career to serve in the Army, in Afghanistan.
Investigations by the Army's Criminal Investigations Division and the Defense Department's inspector general concluded officers in Tillman's chain of command knew almost immediately that he had been killed by fire from his own platoon, but that information was withheld from his family for more than a month, in violation of Army regulations.
McChrystal was one of four generals identified in the report. He was later cleared in the investigation, but was faulted for not immediately notifying Tillman's family of suspicions that it was a friendly fire incident.
McChrystal's challenge now is the new counterinsurgency war in Afghanistan, which means winning the hearts and minds of the people while killing off the growing Taliban threat once and for all.
The announcement that he'd been tapped to take charge comes less than a week after Obama met with the presidents of Afghanistan and Pakistan and pledged a more coordinated effort to defeat the insurgents. Afghanistan, meanwhile, has been complaining about civilian deaths in U.S. airstrikes, including one last week that killed dozens of people.
Obama has called Afghanistan and neighboring Pakistan the "central front in our enduring struggle against terrorism and extremism," and, since taking office in January, he has promised to send 21,000 more troops to Afghanistan. The president has also called for new legislation, improved troop training and added civilian expertise in an effort to battle a resurgent Taliban.
The United States invaded Afghanistan in October 2001 in response to the September 11, 2001, al Qaeda attacks on New York and Washington. It quickly displaced the ruling Taliban, which had allowed al Qaeda to operate from its territory, but the top al Qaeda and Taliban leaders slipped the noose and remain at large.
In recent months, some had criticized McKiernan for pressing too hard for more combat power, but last November he made it clear -- Afghanistan needed more attention.
"I would say that this is more than just a matter of bringing additional military capabilities, although we desperately need additional military capabilities, it's also about ultimately a political solution," he said.

Just weeks ago, Time magazine cited McKiernan as one of the 100 most influential people in the world.
McKiernan, who was appointed by President Bush, will remain in place until the Senate confirms the appointments of McChrystal and his designated deputy, Lt. Gen. David Rodriguez.
E-mail to a friend

CNN's Barbara Starr and Kristi Keck contributed to this report.
All About Robert Gates • Afghanistan War