From Ed Hornick
CNN






WASHINGTON (CNN) -- The House on Thursday passed a $6.4 billion school modernization bill that would commit funds for the construction and update of more energy-efficient school buildings.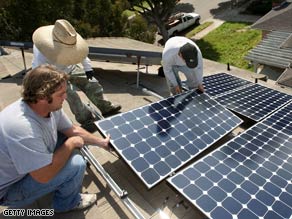 Solar electric panels likes these on a California building could soon come to schools across the country.
The measure passed 275-155 in a largely party-line vote, and will now move to the Senate for further review.
Among other things, the bill allocates substantial funds for improvements along the Gulf Coast, where many school districts are still struggling to repair buildings damaged by hurricanes Katrina and Rita.
The legislation, according to the House Education and Labor Committee, also makes schools part of the effort to revive the U.S. economy and fight global warming by "creating clean energy jobs that will help put workers in hard-hit industries back to work."
The committee says the bill would require that 100 percent of the funds go toward green projects by 2015, which is the final year of funding under the bill.
"All students and teachers deserve safe and healthy learning environments, but too often, their schools are literally falling apart," said Rep. George Miller, D-California, who is the chairman of the House Education and Labor Committee and one of the bill's sponsors.
"This legislation is a victory for students, workers and our planet. It will help improve educational opportunities and boost student achievement, it will help transition us toward a green economy by making our classrooms more environmentally friendly," he said.
Don't Miss
Opponents of the legislation, nearly all Republicans, criticized the high cost and the increasing role of the federal government.
"The federal government has always maintained a limited role in education, focusing on key academic priorities such as closing achievement gaps between disadvantaged students and their peers and ensuring services for children with disabilities," said Rep. Howard P. "Buck" McKeon, R-California, the Education and Labor Committee's top Republican. "The construction and renovation of schools are among the most fundamental rights and responsibilities belonging to states and local communities."
McKeon added: "Federalizing this role is a stunning Washington power grab; something that has become all too familiar in recent months."
The nation's schools are hundreds of billions of dollars short of what it would take to bring them into good condition, according to recent estimates cited by the House committee.
In fact, the American Society of Civil Engineers gave schools across the country a "D" on its national infrastructure report card for this year. Read the report
The American Federation of Teachers also estimates it would cost almost $255 billion to fully renovate and repair all the schools in the country.
Rachel Gutter, of the U.S. Green Building Council, says the benefits of an eco-friendly school will pay off economically.
"The typical green school saves $100,000 a year on direct operating expenses. In school terms, that's enough to hire two new teachers, purchase 200 new computers or 5,000 textbooks," Gutter said.
"So these are major savings. And that's just one year. The typical school lasts 40 years. And when you do the math, it starts to become some serious savings. ... It pays for itself after a few years of operation."
The council, on its Web site, lists several benefits of green buildings, such as improving air and water quality, conserving natural resources, reducing operating costs and improving employee productivity.
But Gutter says that part of the concern over green schools is the fear over construction costs.
"The research shows the greatest barrier to getting more green schools built is the perception that they cost more up front to build," she said. "The fact of the matter is that they don't. ... Building green doesn't have to cost more, and then everything else, all the savings over the lifetime, are just savings you get to put back in your community's pocket."
The legislation, if signed into law, would also help to create new jobs -- around 136,000 positions, according to calculations by the Economic Policy Institute.
But much more is at stake, Gutter says.
"It's about raising a new generation of leaders who inevitably are going to inherit the problems we will leave behind," she said. "So when you're actually able to use the school itself as a teaching tool, as an opportunity for learning, that's when the connections with curriculum really start to happen."
E-mail to a friend

CNN producer Evan Glass contributed to this report.
All About Committee on Education and Labor • Energy Technology • Education