By Gloria Borger
CNN Senior Political Analyst





Editor's note: Gloria Borger is a senior political analyst for CNN, appearing regularly on CNN's "The Situation Room," "Campbell Brown: No Bias, No Bull," "AC360" and "State of the Union with John King," as well as special event coverage.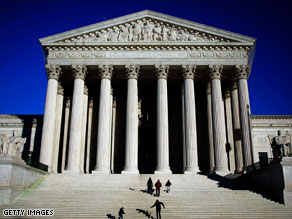 President Obama chose Sonia Sotomayor to fill a coming vacancy on the Supreme Court.
WASHINGTON (CNN) -- All told, Sonia Sotomayor spent six hours at the White House last week, one of them with President Obama.
As it turns out, that interview was the most important one she had -- because she aced it, and as one senior administration official told me, "she won it in the interview."
In some ways, it's surprising, because the president actually "knew the least about her" of any of the Supreme Court candidates, according to this senior official.
But in many ways, it's not surprising, since her life story also resembles that of the president himself: raised by a single (widowed) mom, excelling academically at elite universities and then deciding to devote her life to public service. So when the president talks of someone who has "life experience outside the law," she fits the bill.
And when you look at her own words, it's as if she has been channeling Obama. As she told the Los Angeles Daily Journal in 1992, "I'm a down-to-Earth litigator, and that's what I expect I'll be like as a judge."
That's exactly what the president was looking for.
It didn't hurt, of course, that she has been confirmed by the Senate twice. And, as a senior administration official points out, none other than ranking Judiciary Committee Republican Orrin Hatch has voted for her twice (although in a statement Tuesday, he remained noncommittal).
It didn't hurt that she's Hispanic; "let Republicans go there," a White House aide said.
Don't Miss
And the White House maintains that she is the ultimate bipartisan pick, since she was nominated by George H.W. Bush in 1991 and then again by Bill Clinton in 1997. Actually, Bush 41 appointed her to the court because he had cut a deal with then-New York Sen. Daniel Patrick Moynihan: The senator got to choose a couple of nominees in New York. His pick: Sotomayor, so Bush recommended her.
In any case, no one can say she doesn't have the credentials. But that's truly beside the point for conservative opponents. This is about two things: attacking her as an activist judge and ensuring their own survival. As a way to raise money, it works, but only after every complicated court decision is reduced to a digestible sound bite.
Conservatives are marshaling their forces to make the case that she is a bad choice because she "will allow her feelings and personal politics to stand in the way of basic fairness." That quote is direct from a crib sheet of talking points distributed by conservatives. Indeed, it continues, "[she] readily admits that she applies her feelings and personal politics when deciding cases."
No doubt, they'll use the recent case of Ricci v. DeStefano, in which she supported the city of New Haven, Connecticut's decision to throw out the results of a firefighter promotion exam because almost no minorities qualified for promotions. The Supreme Court is about to rule on that case -- and, some say, overturn Sotomayor's thinking -- perhaps even before her confirmation hearings.
But in a way, it's not just about her decisions. Opponents also point to various public appearances in which she made the case that the federal court of appeals is where "policy is made," as she said at Duke University in 2005. And at Berkeley in 2001, she mused, "I wonder whether by ignoring our differences as women or men of color, we do a disservice both to the law and society."
Those are abhorrent words to those who oppose any inkling of activism in their jurists. And they will raise them as such.
But here's the question: Wouldn't it be more prudent for Republicans to save their fire for a better target? Someone perhaps not as qualified? Or someone who is not quite as historic an appointment as Sotomayor?
No doubt, as Sen. John McCain said Tuesday, she would probably not have been his pick. But then again, he added, "my initial thoughts are that elections have consequences, and this is his selection."
Advise and consent, sure. But it's the knee-jerk opposition that can get you in trouble.
The opinions expressed in this commentary are solely those of Gloria Borger.
E-mail to a friend

All About Sonia Sotomayor