By Elise Labott
CNN State Department Producer





WASHINGTON (CNN) -- Secretary of State Hillary Clinton met with freed Iranian-American journalist Roxana Saberi on Wednesday, a week after her return from a 100-day ordeal in an Iranian jail.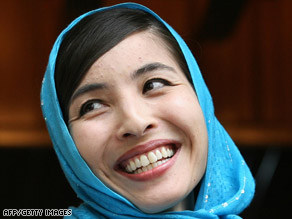 Roxana Saberi is shown May 12 outside her home in Tehran, Iran, after her release.
"My heart went out to Roxana and to her parents every single day," Clinton told reporters. "This was a matter of great concern to our country, certainly to the Obama administration, to me personally, not only as secretary of state, but as a mother."
Saberi's parents traveled from their home in North Dakota to Tehran, Iran, to push for their daughter's release. They attended the State Department meeting with Clinton.
In addition to thanking Clinton, the State Department and President Obama, Saberi thanked the American people and others around the world for the support they offered and the work they did to secure her release.
"When I found out that I had the support while I was in prison, I gained a lot of strength and hope, and I didn't feel so alone anymore," Saberi said. "It's wonderful to be back in the United States. I'm very proud to be an American, just as I'm proud of my Japanese and Iranian heritage. It's wonderful to be back."
A 32-year-old journalist who had lived in Iran since 2003, Saberi was convicted last month on espionage charges based on allegations that was spying for the United States. She was sentenced to eight years in prison after a one-day trial that was closed to the public.
She received international support after she was jailed in Iran in January, becoming a symbol of the fight for journalists' freedoms worldwide. A judge earlier this month modified her sentence in an appeal hearing.
Her sentence was changed to a two-year jail term, suspended for five years, Iran's state-run news agency IRNA reported.
The court agreed with her lawyers' claims that because Iran is not at war with the United States, Saberi could not be punished for cooperating with agents of a hostile nation, according to her spokesman, Abdolsamad Khorramshahi.
E-mail to a friend

All About Roxana Saberi • Iran