By
John King
CNN Chief National Correspondent





Editor's note: John King, CNN's chief national correspondent and "State of the Union" host, examines the news made in Sunday talk and offers up this Monday morning crib sheet on what to watch this week in politics. Please note that all quotes are from rush transcripts and are subject to change. If you'd like to receive a sneak peek of next week's news in your inbox every Sunday, you can sign up for the "Political Ticker - State of the Union Sunday Edition" at http://www.cnn.com/profile/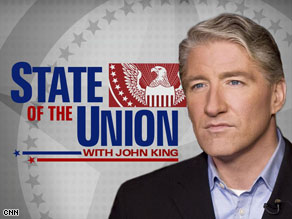 CNN's John King looks back at Sunday's talk shows and what will make news in the coming week.
(CNN) -- Judge Sonia Sotomayor dominated the sounds of Sunday, as you might expect on the weekend after the first African-American president announced his nomination of the first Latina woman for the nation's highest court.
The discussion helped frame the stakes and the issues for the courtesy calls Judge Sotomayor begins with key senators on Capitol Hill this week.
It's a time-honored process where both sides will pay their respects and chat politely. But it's only a warm-up for the pointed questioning that is guaranteed once the public confirmation hearings get under way.
A few noteworthy developments:
• Top Republicans made a decided effort to turn away from the "racist" label used by Rush Limbaugh and Newt Gingrich in the early hours after President Obama announced his choice.
• Democrats and Republicans still haven't agreed to a timetable for the confirmation process.
• Republicans say they don't see, at the moment, any reason to use stalling tactics or to try a filibuster to block the nomination (not that they would have the votes, anyway). But the Senate Republican leader made a point of refusing to rule it out. Leverage, at least a little, for the negotiations still to come.
On the substance, the rhetoric was more cautious -- even subdued for the most part. But a flashpoint remained a 2001 statement from Sotomayor that "a wise Latina woman with the richness of her experience would more often than not reach a better conclusion than a white male who hadn't lived her life." The quote is only a small part of a long and very interesting speech. Read the entire speech here.
"State of the Union" got the perspective of two of the Senate's 17 women. The show also walked through two of Sotomayor's controversial decisions. These were cases that involved the limits of affirmative action and the Second Amendment right to bear arms.
Reaction to Judge Sotomayor's statements
"I totally reject those kinds of claims made by leaders of the Republican Party like Newt Gingrich and Rush Limbaugh. To call her -- to equate her with the head of the Ku Klux Klan, to call her a bigot -- this is baloney. Nothing in her background would indicate that she is a bigot or equivalent of the Ku Klux Klan or anything else." -- Sen. Patrick Leahy, Judiciary Committee Chair on NBC's "Meet the Press"
'State of the Union'
John King reinvents Sunday talk: more time for more politics.
Sunday, 9 a.m. ET

"It does trouble me to say that one type of old person versus another one is going to make a different or better decision. Those are troubling. But I think she will have the chance to explain that." -- Sen. Kay Bailey Hutchison, R-Texas, on CNN's "State of the Union"
"I see this as part of her own experience. Maybe she could have chosen different words but what she is basically saying is your experience matters and she went on to say that you have to look at this as a whole, that she has to ... bring her experience to bear but also the law to bear." -- Sen. Amy Klobuchar, D-Minnesota, on "State of the Union"
"What she said is that based on her life experiences, that she felt a Latina woman, somebody with her background, would be a better judge than a guy like me, a white guy from South Carolina. And it is troubling, and it's inappropriate, and I hope she'll apologize. And if I had said something like that or someone with my background and profile, we wouldn't be talking about this nomination going forward." -- Sen. Lindsey Graham, R-South Carolina, on "Fox News Sunday"
Two of Sotomayor's key cases
Ricci v. Stefano (workplace discrimination)
At issue: Reverse discrimination claim over a city's duty to carry out the results of employment tests even if they reduce job opportunities for minority workers. New Haven, Connecticut, officials used their discretion to decline certifying results of exams for promotions that would make disproportionately more whites eligible for promotions than minority applicants. The city was concerned certifying them would lead to allegations of racial discrimination. It involved 20 firefighters, led by white plaintiff Frank Ricci, who sued after being denied promotion to lieutenant. The case is pending at the Supreme Court.
How she ruled: Sotomayor upheld rejection of the white firefighters' lawsuit, but the three-judge panel she was a part of did not issue a full explanation of their decision, drawing criticism from other judges.
Quote from oral argument: "We're not suggesting that unqualified people be hired ... But if your test is going to always put a certain group at the bottom of the pass rate so they're never, ever going to be promoted, and there is a fair test that could be devised that measures knowledge in a more substantive way, then why shouldn't the city have an opportunity to try to look and see if it can develop that?"
"We need to know, for example, whether she's going to be a justice for all of us or just a justice for a few of us. You know, this promise of equal justice under law is not just a motto emblazoned above the Supreme Court, this is the standard." -- Sen. John Cornyn, R--Texas, on ABC's "This Week"
"She was simply implementing, allowing to go forward what elected officials in New Haven had chosen to do. You know we hear all these claims, we don't want judicial activists, and that is true, we don't. Here she was being modest, following the precedent of her court." -- Sen. Charles Schumer, D-New York, on "This Week"
Maloney v. Cuomo (Second Amendment)
At issue: Does a state ban on certain types of weapons violate the Second Amendment?
Don't Miss
How she ruled: She rejected a lawsuit from a man who wanted to possess a martial arts weapon called a nunchuka. Sotomayor said the Second Amendment "right of the people to keep and bear arms" applied only to the federal government.
Quote: "The Second Amendment applies only to limitations the federal government seeks to impose on this right."
"I am a very strong supporter of the Second Amendment. I even voted against the attorney general, Holder, because he had written opinions that said the right to keep and bear arms is one for an organized militia and not for the individual, and I vehemently disagree with that, even though I respect him as a person. That is something that I will look into very carefully." -- Sen. Kay Bailey Hutchison on "State of the Union"
"You look at what happened this weekend, John. She actually got the endorsements of law enforcement in the state that she grew up in, the state of New York. Some tough cops there, law enforcement, prosecutors. So I think you're going to see a woman who is a tough prosecutor, someone who wants to uphold the law, has sided with cops many times in decisions, and to also uphold the Second Amendment." -- Sen. Klobuchar on "State of the Union"
Reaction to conservation criticism
On "State of the Union," Senate Minority Leader Mitch McConnell and I discussed some of the heated rhetoric:
McConnell: "I've got a big job to do dealing with 40 Senate Republicans and trying to advance the nation's agenda, and better things to do than be the speech police over people who have will have their views about a very important appointment which is an appointment to the United States Supreme Court. So I'm not going to get into policing everybody's speech."
King: "Can I read into that, though, you do not agree? You would not label ...?"
McConnell: "It is certainly not my view. My view is we ought to take a look at this nominee's qualifications. I think her life story is absolutely impressive." Read more of the discussion with McConnell
While the Supreme Court opening dominated talk, the Sounds of Sunday offered insights into other issues.
The situation with General Motors
"I think the government auto bailout was a big mistake. We have Ford Motor Company here in Louisville, an American company that hasn't taken government money and is still producing automobiles. We've ended up exactly where I predicted we would. If we could have let these companies go through the bankruptcy process much earlier in the process without all of the additional government money and ended up in the same place." -- McConnell on "State of the Union" Read CNNMoney.com for the latest on GM
Sen. Ted Kennedy's health-care plan
"In countries that have government-run health care, you do have the government between the patient and the doctor. You do have extensive delays in testing, in diagnosis, in treatment. It has a clear impact on life span. And I'm glad that Sen. Kennedy laid the plan out there, because there's been some mystery about what the administration might actually be for, and I think the reporters have got it right, that Sen. Kennedy has basically laid out what the administration would like to have." -- Mitch McConnell on "State of the Union"
A second try for president?
"Yeah, I'm not going to close that door, but I'm not going to walk through it, either." -- Former presidential candidate Mitt Romney on "Fox News Sunday"
Obama's upcoming speech to the Islamic world
The roundup ends with a foreign-policy discussion from "State of the Union":

King: "Take me into the depths of the problem. You are a diplomat, you know the language of diplomacy, but if we were to be on the street in Cairo or on the street in Amman or on the street in Baghdad, what would the average young Arab, Muslim say when I ask the question: What is your impression of the United States? Good or evil?"
Sameh Shoukry, Egypt's ambassador to the United States: "I think currently more good than evil. The president has generated a lot of excitement and admiration of the administration and its policies. They are more well-regarded in the Arab streets, and I think the speech will be a major contributor to enhancing those sentiments. So, there is a great deal of excitement in Cairo and the rest of the Muslim world for the presentation of the president and his visit. And we recognize that this is an important historic point and hope that it will result in greater cooperation."
E-mail to a friend

All About Sonia Sotomayor • Constitutional Law • Mitch McConnell • General Motors Corporation