By Mike Mount
CNN





WASHINGTON (CNN) -- President Obama's nominee to command U.S. and NATO troops in Afghanistan said Tuesday that to be successful, an aggressive counterinsurgency campaign must minimize civilian casualties and collateral damage.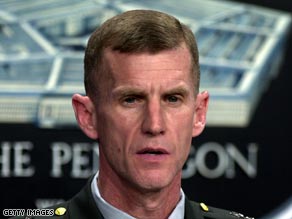 Lt. Gen. Stanley McChrystal testified before the Senate as the nominee to become the new overall commander in Afghanistan.
Lt. Gen. Stanley McChrystal told the Senate Armed Services Committee that the mission requires more Afghan security forces, as well as a new focus on counterinsurgency to both decrease violence and build support for the allied mission among the Afghan population.
"From limited but necessary air strikes to small unit search and detention operations, if confirmed, I would emphasize that how we conduct operations is vital to success," McChrystal said, touching on a subject that has become a flashpoint in Afghanistan.
U.S. air strikes against Taliban forces have also killed numerous civilians, angering Afghans and Afghan President Hamid Karzai and straining the relationship between the two countries.
In all cases, "a willingness to operate in ways minimizing causalities or damage ... is critical," McChrystal said. "Although I expect stiff fighting ahead, the measure of success will not be enemy killed. It will be shielding the Afghan population from violence."
McChrystal was testifying as the nominee to become the new overall commander in Afghanistan. He would replace Gen. David McKiernan if he is confirmed by the Senate.
McKiernan was removed by Obama last month in favor of McChrystal, who has a deep special operations background and has led the hunt for high-value terrorists in Afghanistan and Iraq.
Don't Miss
Under questioning from committee members, McChrystal said he believes the war is winnable but will be difficult, with U.S. casualties increasing as operations move into the south near the border with Pakistan. Eventual success is important for both the stability of the region and U.S. credibility in the effort to help the Afghan people shape a better future, McChrystal said.
A former Green Beret, McChrystal has vast experience in counterinsurgency warfare and has been credited with playing a key role in the capture of Saddam Hussein. However, he also came under scrutiny for allegations that units under his command mistreated detainees and for confusion following the 2004 friendly fire death of Pat Tillman, who gave up a pro football career to serve with the Army in Afghanistan.
Investigations by the Army's Criminal Investigations Division and the Defense Department's inspector general concluded officers in Tillman's chain of command knew almost immediately that he had been killed by fire from his own platoon. That information, however, was withheld from his family for more than a month, in violation of Army regulations.
McChrystal was one of four generals identified in the report. He was later cleared in the investigation, but was faulted for not immediately notifying Tillman's family of suspicions that it was a friendly fire incident.
Under questioning Tuesday from Sen. John McCain of Arizona, the ranking Republican on the committee, McChrystal said the mistake in the Tillman situation involved attempts to simultaneously support the awarding of a Silver Star for Tillman while investigating the reports that he died from friendly fire. A policy to have awards approved in time to present them to families at memorial ceremonies should be changed to prevent competing pressures, McChrystal said.
"I would do this differently if I had the chance again," he said, adding that the Silver Star citation was "not well-written" because it could be interpreted to imply that Tillman's death was not by fratricide.
Asked if he believed Tillman earned the Silver Star before his death, McChrystal said: "I did then, I do now. ... I don't believe that the circumstance of death detract from the courage and commitment of his contribution."
Committee Chairman Sen. Carl Levin, D-Michigan, asked McChrystal about controversial interrogation techniques such as stress positions, forced nudity and the use of dogs by units under his command in 2003. McChrystal acknowledged such techniques were used, and while they were permitted under legal guidelines at the time, he said they made him uncomfortable.
"Some of them were used when I took over, and we immediately began to reduce those," he said.
Obama has called Afghanistan and neighboring Pakistan the "central front in our enduring struggle against terrorism and extremism," and, since taking office in January, has promised to send 21,000 more troops to Afghanistan. The president has also called for new legislation, improved troop training and added civilian expertise in an effort to battle a resurgent Taliban.
The United States invaded Afghanistan in October 2001 in response to the September 11, 2001, al Qaeda attacks on New York and Washington. It quickly displaced the ruling Taliban, which had allowed al Qaeda to operate from its territory, but the top al Qaeda and Taliban leaders slipped away and remain at large.
Also appearing before the committee with McChrystal were Adm. James G. Stavridis, nominated to be supreme allied commander for Europe, and Air Force Lt. Gen. Douglas M. Fraser, nominated as commander of the U.S. Southern Command.
E-mail to a friend

CNN's Tom Cohen contributed to this story.
All About U.S. Army Activities • Stanley McChrystal • Pat Tillman • Afghanistan War