WASHINGTON (CNN) -- Fixing America's health care system is necessary to expand coverage and prevent rising costs from further straining the U.S. economy, President Obama said Tuesday.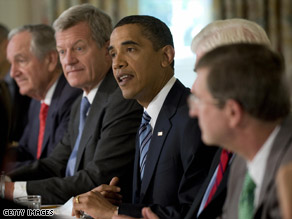 President Obama meets Tuesday with senators to discuss health care reform.
Before meeting with senators from both parties to discuss the issue, Obama called soaring health care costs unsustainable for families, businesses and governments. He urged immediate congressional action to ensure that health care legislation can be passed by the end of the year, which is his goal.
"This issue ... is not a luxury; this is a necessity," said Obama, who called the two-month window before Congress goes on its August recess a "make-or-break" period for his year-end timetable.
The president cited a litany of problems, including skyrocketing premiums and confusing loopholes in a system that he said costs more money per person than most other industrialized nations while providing inferior health care in many cases. It will only get worse, he said.
A decade from now, Obama said, a fifth of the U.S. economy will be tied to health care, with millions more people lacking coverage and average paychecks decreasing due to rising health costs.
At the same time, he warned against expanding health care coverage without addressing the high costs that are causing problems.
"As we move forward on health care reform, it is not sufficient for us simply to add more people to Medicare or Medicaid, to increase the rolls, to increase coverage, in the absence of cost controls and reform," Obama said. "If we don't get control over costs, then it is going to be very difficult for us to expand coverage. These two things have to go hand-in-hand."
Don't Miss
Earlier Tuesday, the Obama administration laid out its estimates of how the U.S. economy might benefit if health care costs are brought to heel and the uninsured get coverage.
Real gross domestic product could increase by more than 2 percent by 2020 and by nearly 8 percent by 2030, according to a report from the Council of Economic Advisers.
The group also projects that reform could, among other things, lower the unemployment rate and increase the labor supply by reducing disability and absenteeism. And it could help slow the growth in the U.S. deficit, reducing it by 3 percent of the gross domestic product, the report said.
"Health care reform is incredibly important for the American economy," said council Chairwoman Christina Romer in a conference call with reporters. After completing the council's analysis, she said, "I'm now the most passionate advocate for reform."
The estimates by the Council of Economic Advisers assume growth in health care costs is slowed by 1.5 percentage points a year, which is what the health care industry has promised to deliver. And it assumes as a baseline that 100 percent of Americans will have health insurance, Romer said.
Both those assumptions are far from a sure thing.
Lawmakers haven't decided whether to mandate that everyone must get health insurance. Senate Finance Chairman Max Baucus, D-Montana, has said he thinks there's a fair chance a reform package could cover close to 95 percent of Americans. Baucus was one of the senators who met later in the day with Obama.
In addition, there is considerable uncertainty about whether the health care industry can achieve the kinds of savings it has promised -- estimated to be $2 trillion over 10 years.
The industry has promised to do several things, including better manage chronic diseases, streamline claims processing, aggregate performance data and implement other efficiency measures.
E-mail to a friend

CNN's Jeanne Sahadi and Tom Cohen contributed to this report.
All About Barack Obama • Health Care Costs