By Elise Labott
CNN State Department Producer





WASHINGTON (CNN) -- Secretary of State Hillary Clinton said Monday she has ordered a review of security and vetting procedures that let a State Department employee suspected of spying for Cuba slip through the cracks.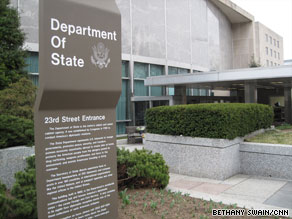 Ex-State Department employee Kendall Myers and his wife were arrested last week, suspected of spying for Cuba.
Clinton told reporters she directed State Department security personnel to review "every possible security program we have, every form of vetting and clearance that we employ in the State Department, to determine what more we can do to guard against this kind of outrageous violation of the oaths that people take to serve our country here in the State Department."
Walter Kendall Myers, a 72-year-old former State Department employee, and his 71-year-old wife, Gwendolyn, were arrested Thursday and charged with illegally aiding the government of Cuba for almost 30 years, the Justice Department said.
The Myerses were charged with conspiracy to act as illegal agents of the Cuban government, providing classified information to that government and wire fraud, according to court documents unsealed in Washington on Friday.
"We are concerned by the announcement of the arrests and the charges against these two individuals, one of whom, as you know, was a former State Department employee, along with his wife," Clinton said.
The couple appeared briefly Friday in Washington before a federal magistrate, who ordered them held without bond pending a detention hearing Wednesday. Judge John Facciolo agreed with prosecutors that the couple might try to flee the country if not held.
The State Department isn't clear at this stage on what information the Myerses may have passed to their Cuban handlers, according to a senior State Department official, who told CNN such information would come out of a full damage assessment.
"We were confident" at the time of Kendall Myers' retirement, the official said, that he had been passing information to Cuban intelligence. Diplomatic security officials "let it go for a while" to see what information might emerge.
Myers was a senior European analyst in the State Department's Bureau of Intelligence and Research and "had come up in the ranks," the official said.
Court documents said Myers retired from the State Department on October 31, 2007, and had viewed more than 200 classified reports on Cuba in his final months on the job, even though he was, at the time, an analyst working on European issues.
Promising full State Department cooperation with the ongoing investigation and eventual prosecution, Clinton said it was equally important "that we look forward to make sure that we try to prevent something like this from ever happening again."
A law enforcement official told CNN the couple's primary motive was not money. The couple were "true believers" in the Cuban system, the official said.
Although they were paid for "expenses" by the Cuban government, most of their funds, including a $500,000 brokerage account, may be largely from Myers' government salary, the official said.
However, the government intends to move to seize money derived from his employment on the basis the funds were obtained as a fraud, arguing he was really working against the U.S. government.
The indictment, made public Friday, says Kendall Myers, allegedly known to Cuban intelligence as Agent 202, and Gwendolyn Myers, allegedly known as Agent 123 and Agent E-634, engaged in activities "which spanned nearly three decades."
Conviction on the wire fraud charge would carry a sentence of up to 20 years, illegally acting as an agent of a foreign government would carry a sentence of up to 10 years, and the conspiracy charge would carry a sentence of up to five years.

E-mail to a friend

CNN's Terry Frieden and Jill Dougherty contributed to this report.
All About Hillary Clinton • Cuba • Espionage and Intelligence • U.S. Department of State