WASHINGTON (CNN) -- Senate Minority Leader Mitch McConnell took to the Senate floor Wednesday to blast Democrats for setting a start date on Supreme Court nominee Sonia Sotomayor's confirmation hearing.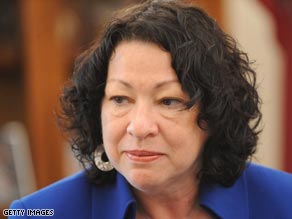 Judge Sonia Sotomayor has been meeting with lawmakers in advance of her confirmation hearings.
"Sen. Leahy's decision to rush Judge Sotomayor's confirmation hearing is indeed puzzling," said McConnell, R-Kentucky. "It risks resulting in a less informed hearing, and it breaks with years of tradition in which bipartisan agreements were reached and honored over the scheduling of hearings for Supreme Court nominees. And it damages the cordiality and goodwill the Senate relies on to do its business."
Patrick Leahy, D-Vermont, chairman of the Senate Judiciary committee, announced Tuesday the hearings for Sotomayor would begin on July 13 -- a date that was determined, according to the GOP, without consulting Sen. Jeff Sessions of Alabama, the committee's ranking Republican.
"It's going to allow several more weeks for committee members to prepare for the hearing ... and there's no reason to unduly delay consideration of this well-qualified nominee," Leahy said.

Watch more on Sotomayor's confirmation date »
Republican leaders have called for confirmation hearings in September.
Sotomayor is expected to win easy confirmation as the first Hispanic Supreme Court justice and the third woman to sit on the nation's highest court.
"They want the shortest confirmation timeline in recent memory for someone with the longest record in recent memory," said McConnell, of Kentucky. "This violates basic standards of fairness and it prevents senators from carrying out one of their most solemn duties, a thorough review of the president's nominee to a lifetime position on the highest court in the land."

Watch more of McConnell's criticism »
Don't Miss
President Obama nominated Sotomayor to the U.S. Supreme Court on May 26. The time between her nomination and the start of her confirmation hearing would not necessarily be the shortest in recent history.
CNN has compiled a list of the time elapsed between a Supreme Court nominee's nomination and subsequent confirmation hearings:
• Samuel Alito: 70 days
• John Roberts: Seven days after announced as chief justice replacement; 55 days after initial nomination
• Stephen Breyer: 60 days
• Ruth Bader Ginsburg: 36 days
• Clarence Thomas: 71 days
• David Souter: 52 days
• Anthony Kennedy: 33 days
• Robert Bork: 76 days
• Antonin Scalia: 49 days
• William Rehnquist: 42 days
• Sandra Day O'Connor: 64 days
• John Paul Stevens: 10 days
• Rehnquist (nominated by former President Nixon to replace Associate Justice John Harlan): 13 days
Meanwhile, a leading Republican, Sen. Mel Martinez of Florida, on Tuesday predicted the Senate would confirm Sotomayor.
After a one-on-one meeting with Sotomayor, Martinez said, "I would expect that she would be confirmed with pretty good numbers."
Martinez stopped short of endorsing her nomination, saying he wants to wait until after her confirmation hearings.
But he had positive things to say about her personal and judicial background, and he said she would "fit in" well on the Supreme Court.
Martinez, the only Hispanic Republican senator, said he is not concerned about Sotomayor's controversial "wise Latina" comments because, he said, there is no evidence that sentiment has influenced her judicial decisions. iReport.com: Is Sotomayor right for the Court?
"For someone who is of Latin background, personally, I understand what she is trying to say. Which is, the richness of her experience forms who she is. It forms who I am," Martinez said.
Sotomayor has faced criticism since being nominated for the high court over comments she's made in the past concerning her Latina heritage.
In her speeches, she often discussed her "Latina soul" and explained how even the traditional dishes of her Puerto Rican family shaped her views.
And she often said that she hoped those experiences would help her reach better judicial conclusions than someone without such a varied background might reach.
The line was almost identical every time:
"I would hope that a wise Latina woman with the richness of her experiences would, more often than not, reach a better conclusion."
That sentence, or a similar one, has appeared in speeches Sotomayor delivered in 1994, 1999, 2002, 2004 and 2005. In the most recent speech, she included the phrase "than a white male who hasn't lived that life" at the end, which sparked cries of racism from some Republicans.
Those instances were included in documents Sotomayor sent Thursday to Capitol Hill, part of her response to a lengthy questionnaire the Senate Judiciary Committee sent to her.
Sotomayor supporters brought up the 1994 speech themselves, after former House Speaker Newt Gingrich, radio host Rush Limbaugh and others labeled Sotomayor a racist over the remark. Gingrich has since recanted.
The supporters say that Republicans did not object to those remarks in 1998 during Sotomayor's confirmation to the U.S. Court of Appeals for the 2nd Circuit.

"She told me she had used the phrase before, but that she would not be using it again," said Sen. Susan Collins, R-Maine. "She's clearly a very bright individual who learns from her past mistakes," Collins said.
Sen. Dianne Feinstein, D-California, said after meeting with Sotomayor that the judge had told her, " 'It was a poor choice of words. If you read on and read the rest of my speech, you wouldn't be concerned with it, but it was a poor choice of words.' "
E-mail to a friend

CNN's Alexander Mooney, Ed Hornick, Robert Yoon, Dana Bash and Emily Sherman contributed to this report.
All About Sonia Sotomayor • U.S. Supreme Court