By Drew Griffin and David Fitzpatrick
CNN Special Investigations Unit





DILLON, South Carolina (CNN) -- Federal education stimulus dollars are headed to South Carolina schools after a state Supreme Court decision settled months of heated political arguments, but educators say the money will have little impact on their budget woes.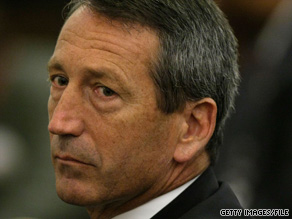 South Carolina Gov. Mark Sanford wanted to pay down state debt with stimulus money.
The money includes nothing for badly needed new buildings, but it will allow Dillon School District Two to "hold the line" on its budget, Superintendent Ray Rogers said.
"Instead of a deficit of between $1.2 and $1.5 million, our deficit will be around $300,000," Rogers said. "We can keep most of our programs in place for the coming year."
Rogers said schools in Dillon, about 110 miles east of Columbia, stand to receive about $900,000 from the $350 million in stimulus funds South Carolina will receive this year.
Gov. Mark Sanford, a Republican seen as a possible presidential hopeful, had tried to reject money from the nearly $800 billion economic stimulus bill the Democratic-led Congress passed in February. Sanford demanded that he be allowed to pay down a corresponding amount of state debt with the money and battled members of his own party to do so.
"This governor, in my opinion, cares nothing about the people he governs," said state Sen. Hugh Leatherman, a Republican.
The state legislature eventually passed a law requiring that Sanford accept the money, and the South Carolina Supreme Court ruled last week that the governor had no choice but to accede. Sanford remains resolute in his criticism of federal education stimulus funds, however.
"First, it's important to state one last time, for the record, what a monumentally terrible idea I believe the entire so-called stimulus act is and why in particular utilizing this money as our General Assembly has done is ultimately going to cause more harm than good," he wrote in a letter to Education Secretary Arne Duncan.
When CNN visited J.V. Martin Junior High School in Dillon in early May, there was no question that money was short.
"The bottom line is, we need a new school," Rogers said at the time.

Watch what's going on at the school »
The school was the centerpiece for two appearances by then-Sen. Barack Obama during his 2008 presidential campaign. And an eighth-grader from the school, Ty-Sheoma Bethea, appeared alongside Michelle Obama in February after she had written an impassioned letter pleading for more money for her school.
"We are not quitters," Obama said, reading from the girl's letter.
J.V. Martin did benefit from the national attention. A school-furniture manufacturer from Chicago donated desks, tables, chairs and other badly needed equipment. The furniture was unloaded and assembled over a weekend and presented to the students as a surprise on a morning in mid-May.
But for the time being, J.V. Martin will have to keep using 14 mobile classrooms, now several years old, to house most of its classes. Teachers like Harold Wilson will still have to run through the dirt playground in bad weather to use a bathroom, as he says he has been doing for years. And freight trains will still rumble six or seven times a day only yards away from the trailers.

And when will a new school finally get built?
"I don't have the answer to that," Rogers said. " But when it does, you'll be able to hear my yelling all away across the country."
E-mail to a friend

All About South Carolina • Mark Sanford • Economic Stimulus