WASHINGTON (CNN) -- Republicans on the Senate Judiciary Committee are asking Judge Sonia Sotomayor for more information about her lengthy legal career that includes almost two decades on the federal bench.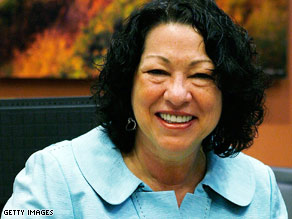 Republicans want to know more about material Judge Sonia Sotomayor edited at Yale Law School.
A letter to Sotomayor signed by every Republican on the committee and dated Wednesday states that committee staff "have noted a number of apparent omissions" in the materials Sotomayor recently submitted.
"In addition, we believe that some of your responses are incomplete," the letter also says. The seven Republican senators ask Sotomayor to "revisit the questionnaire and provide another supplement as soon as possible." Alternatively, "[i]f you believe that your questionnaire is fully responsive, we would appreciate an explanation to that effect," the Republicans tell Sotomayor.
Among other things, the letter asks Sotomayor to provide copies of materials she edited while at Yale Law School, to explain why an all-female organization that she belongs to does not violate the federal courts' Code of Judicial Conduct and to provide more information about nearly 200 speeches, remarks or lectures she has given.
The questionnaire, required of all federal judicial nominees, covers a range of topics, including a summary of an individual's net worth and legal career.
Sotomayor has assets worth almost $1.16 million, including a home valued at almost $1 million, according to her responses, which were posted online by the Judiciary Committee.
Her financial liabilities total almost $420,000, including a mortgage totaling slightly less than $382,000, she wrote.
Don't Miss
Asked to list the 10 most significant cases over which she has presided, Sotomayor cited, among other things, her backing of the players' union in a ruling that ended the 1994-95 Major League Baseball strike.
Sotomayor indicated in the questionnaire that she was first contacted by the White House about possibly filling a Supreme Court vacancy on April 27, four days before Justice David Souter publicly announced his intention to step down.
"I was [first] contacted by Gregory Craig, White House counsel ... with respect to the possibility of a future Supreme Court vacancy," Sotomayor wrote.
Sotomayor, meanwhile, met with seven more senators Thursday, the White House announced: Sens. Daniel Akaka, D-Hawaii; Kay Bailey Hutchison, R-Texas; Bill Nelson, D-Florida; Jack Reed, D-Rhode Island; Debbie Stabenow, D-Michigan; Jon Tester, D-Montana; and Mark Udall, D-Colorado.
As Sotomayor continues her meetings, Senate Minority Leader Mitch McConnell took to the floor of the chamber this week to criticize Democrats for setting the start of Sotomayor's confirmation hearings -- on July 13.
"They want the shortest confirmation timeline in recent memory for someone with the longest record in recent memory," McConnell said. "This violates basic standards of fairness and it prevents senators from carrying out one of their most solemn duties, a thorough review of the president's nominee to a lifetime position on the highest court in the land."

Watch McConnell discuss the nomination »
Leahy defended the decision saying, "It's going to allow several more weeks for committee members to prepare for the hearing ... and there's no reason to unduly delay consideration of this well-qualified nominee," Leahy said.

Republican leaders have called for confirmation hearings in September.
Sotomayor is expected to win easy confirmation as the first Hispanic Supreme Court justice and the third woman to sit on the nation's highest court.
E-mail to a friend

CNN's Martina Stewart contributed to this report.
All About Sonia Sotomayor • U.S. Supreme Court • Barack Obama