By Bill Mears
CNN Supreme Court Producer





WASHINGTON (CNN) -- An all-women's club that counts Supreme Court nominee Judge Sonia Sotomayor among its members does not "discriminate on the basis of sex," she told senators.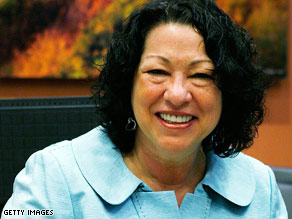 Judge Sonia Sotomayor says her club membership does not violate the Code of Judicial Conduct.
The remarks came in a letter -- along with a supplemental filing of documents and speeches -- Sotomayor gave to the Senate Judiciary Committee this week.
The confirmation hearings begin July 13.
Sotomayor has been reviewing her record with the help of White House lawyers. She was also meeting with six senators Tuesday, courtesy visits with the lawmakers who will decide whether she will become the nation's 111th justice.
The New York federal appeals judge has provided thousands of pages of material to the committee, but some Republican senators asked for more information, including her participation in the Belizean Grove.
The New York-based professional women's organization describes itself as helping "women pursue more significant dreams, ambitions, purposes, transcendence and spiritual fulfillment."
About 115 women are in the group, according to its Web site.
Don't Miss
"The Belizean Grove is a constellation of influential women who are key decision makers in the profit, nonprofit and social sectors; who build long term mutually beneficial relationships in order to both take charge of their own destinies and help others to do the same," a statement on its Web site said.
Its leaders said it was created as a counterpart to the all-male social club the Bohemian Grove, which also has an influential network of leaders.
Sotomayor told senators her group is not purposely exclusive.
"To the best of my knowledge, a man has never asked to be considered for membership. It is also my understanding that all interested individuals are duly considered by the membership committee," she wrote to the Senate Judiciary Committee.
She added that men participate in the group's activities, including trips, hosting events and talks.
Sotomayor said that in her opinion, her membership did not violate the Code of Judicial Conduct, which says judges should not join organizations that discriminate based on sex, religion, race or nationality.
Sources indicated Sotomayor was recommended to the Belizean Grove by Mari Carmen Aponte, a corporate director and former top official at the Puerto Rico Federal Affairs Administration in Washington.
The only female member of the high court, Justice Ruth Bader Ginsburg, belongs to the International Women's Forum, which has an exclusive membership. Former Justice Sandra Day O'Connor also participated in similar women's only groups, an issue that was raised during her 1981 confirmation hearings.
Among the Belizean Grove's members are Marion Blakely, former chairwoman of the Federal Aviation Administration; and Edie Weiner, leading futurist consultant and best-selling author.
E-mail to a friend

All About Sonia Sotomayor • U.S. Supreme Court