By Julian E. Zelizer and Melissa Lerner
Special to CNN





Editor's note: Julian E. Zelizer is a professor of history and public affairs at Princeton University's Woodrow Wilson School. Melissa Lerner graduated this spring with highest honors from Princeton, where she completed a senior thesis about presidential leadership and the Arab-Israeli conflict.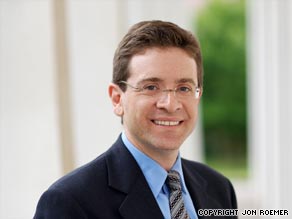 Julian Zelizer and Melissa Lerner says presidents have succeeded in promoting Mideast peace.
PRINCETON, New Jersey (CNN) -- At a time when the Obama administration is dealing with a barely stable economy while trying to address long-term health care, two wars, the environment and the threat of terrorism, many ask whether it is wise for President Obama to try to resolve a problem that has frustrated so many presidents before him.
With the latest events in Iran, there is even more reason for skepticism that progress towards Arab-Israeli peace is possible.
Despite conventional wisdom, when presidents have become personally active in shaping American policy in the region and resolved to make the Mideast conflict a top priority, they've often succeeded in improving Arab-Israeli relations.
Jimmy Carter oversaw the Camp David Accords, which resulted in the Egypt-Israel Peace Treaty that secured calm between the two countries for three decades.
George H.W. Bush brought all the key parties to the Madrid Conference in October 1991, which in turn accelerated substantive peace negotiations. Under President Clinton, these negotiations led Yitzhak Rabin and Yasser Arafat to agree to the Oslo Accords in 1993, a framework for improved relations. The following year, the Jordanians and Israelis signed a peace treaty.
Since then progress has been halting. Clinton almost helped to achieve another breakthrough in 2000, but the negotiations fell apart when Arafat walked away from one of the most comprehensive deals thus far.
When President George W. Bush was in office, relations between the Israelis and Palestinians deteriorated. Bush's warm approval of Prime Minister Ariel Sharon as a "man of peace" and his reluctance to put pressure on the Israeli leader strengthened conservative voices in Israel. After Hamas won a majority in the Palestinian parliament in 2006 despite its radical positions and endorsement of violence, progress seemed impossible.
But today, under the surface, there are signs of hope. During his first term in the late 1990s, then-President Netanyahu learned firsthand the ramifications of failing to cooperate with an American president when Ehud Barak unseated him in 1999 with Clinton's blessing.
Netanyahu is nothing if not a politician, and he understands that alienating Obama can cost him his career. Sunday, during a major policy speech, Netanyahu supported the creation of a limited Palestinian state, if it disarms and recognizes the Jewish state of Israel. He invited Arab leaders to start negotiations to achieve peace. The initial Arab reaction to the speech was negative, with Hamas saying Netanyahu was seeking to deny Palestinians their rights.
But in a recent interview, Khaled Meshal, the head of Hamas, implied that the organization's charter, calling for the destruction of Israel, is outdated. Although refusing to say the founding document should be abandoned, he suggested Hamas had been "shaped by our experiences" over the 20 years since it was written.
It is difficult to know if these kinds of statements represent any kind of opportunity for negotiation, given the history of Meshal and Hamas, but sometimes a few words in the Middle East do indicate a potential for renewed talks.
There is also some evidence that the American Jewish community has fractured more intensely than in previous decades between those who are loyal to Israel, regardless of the government's policies, and those who are loyal to Israel but want changes in Israeli policies to improve relations with Arabs.
When Carter was president in the 1970s, he received widespread criticism from the Jewish community for his endorsement of a two-state solution. A New York Times article reported that then-Prime Minister Yitzhak Rabin and the Israeli government were "disturbed" by Carter's remarks in support of a Palestinian homeland. Carter's aide Hamilton Jordan warned the president that "the American Jewish community is extremely nervous at present" due to his public statements and policies.
Much has changed. Today, the debate has shifted in the Jewish community toward how the United States can help make such a two-state solution viable while assuring the security of Israel. Notwithstanding the speculation during the campaign that Obama would do poorly with the Jewish community because of his positions on the Middle East, most American Jews voted for him.
In the Arab world, Obama remains more popular than previous U.S. presidents. The leaders of Arab nations are aware of this fact, and Obama can use his political capital to build support for diminishing traditional hostility toward Israel.
Although it is premature to predict what these results will mean for the future of Lebanon or the region, the victory of the pro-Western March 14 Alliance defied the expectations that pro-Iranian parties would enjoy increased support in Lebanon's recent election.
Obama must support the new Lebanese government in the coming weeks and months to ensure that the trend of moving away from Iranian influence and towards moderation is an enduring one.
At this rare moment in history, the Arab states and Israel are united in fear of a rising Iran. Fears about the direction of the Iranian government have intensified in the wake of the recent election and the reform candidate's failure to secure power. Iran's continued nuclear program may present an opportunity to build upon the Arab Peace Initiative to help forge an Israeli-Palestinian peace, deflate extremism in the Muslim world, and create a cohesive front against Iran.
Obama must remain firm in his commitment to achieve peace between the Israelis and Palestinians, although he will have to adjust his demands as this process unfolds.
Despite the many policy issues he faces, Obama cannot fade into the background. First, he will have to continue to pressure the Palestinians to demonstrate a commitment to security and non-violence, including an end to the rockets from Gaza.
Until that occurs, Israeli support for negotiations will be limited. Second, the administration must pursue a negotiation track with Syria, and engage the rest of the Arab world by encouraging its leaders to recognize Israel. Finally, the administration should work more aggressively to create a regional coalition, comprised of Israel and Arab countries, that will intensify pressure on the Iranian government to stop its nuclear program and alter its stance toward Israel, while also encouraging reform elements within Iran.
At the same time, Obama will have to work with the Israeli government -- without antagonizing it -- in order to gain support for a settlement freeze during the negotiations and to push forward Netanyahu's promise to make progress towards a viable Palestinian state.
Finally, Obama can't take his eye off the domestic front. He must continue to engage the domestic coalitions who are most interested in these policies and ensure they are brought into the deliberations.
The key will be balance. Obama should take this opportunity to embrace a strategy that is truly even-handed and does not let either side avoid its responsibilities.
The opinions expressed in this commentary are solely those of Julian Zelizer and Melissa Lerner.
E-mail to a friend

All About Benjamin Netanyahu • Iran • Jimmy Carter • Hamas