WASHINGTON (CNN) -- House Republicans on Wednesday presented what they called a "sorely needed" alternative to Democrats' proposals to overhaul health care.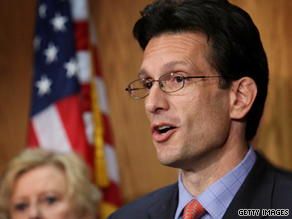 Rep. Eric Cantor says Republicans are drafting a plan to ensure all Americans have access to affordable coverage.
Republicans want to make sure all Americans have access to affordable coverage, Rep. Eric Cantor, the House minority whip, said Wednesday.
"We do so by making sure we keep down costs and incorporate the ability for folks to pool together to access lower costs, to bring private sector into the game and keep government out," Cantor said.
Neither Democrats nor Republicans have detailed how they would pay for their proposals. Rep. Roy Blunt, R-Missouri, said his party's plan will cost "far less" than that of the Democrats and "provide better results for the American people."
Rep. Dave Camp, R-Michigan, who co-authored the GOP plan, said it's important to make sure the bill is one with a "common-sense approach."
"We are not going to have a bill that is larger than the GDP [gross domestic product] of most countries, which is what we are beginning to see roll out," said Camp, the ranking Republican on the House Ways and Means Committee.
"Clearly, if we move forward and this bill is on the floor, we are going to have to have a bill that is paid for and that's going to depend on what the scores come back."
A score is a preliminary estimate of the cost of proposed legislation. A preliminary review by the Congressional Budget Office of a plan being drawn up in the Senate found it would cost about $1 trillion over 10 years to extend health insurance to 16 million people who otherwise would not be covered, about a third of the roughly 45 million now uninsured.
Camp said that the House Republican proposal calls for refundable tax credits for lower-income Americans.
But Camp and Republicans have not determined key details for their proposal, including the amount of those tax credits or who precisely could be eligible.
House Republicans on Wednesday planned to release a two-page summary of Camp's proposal, which CNN Radio obtained.
Some highlights include:
"Pools" of insurance. It would let states, small businesses and others group together to offer lower-cost, health care plans. Such pools would have to offer, at a minimum, any coverage that is provided in a majority of states.
Medicaid transfer. It would allow Medicaid users to take the value of their Medicaid benefits and transfer/apply those to a private health care plan instead.
Boosting of health care savings accounts. It would increase incentives for people, especially those in lower income brackets or over 55, to build up HSAs.
Automatic insurance. It would encourage employers to sign up their workers for health insurance automatically, so that employees would have to "opt out" of coverage if they didn't want it.
This Republican alternative bill also contains several health care ideas that are increasingly championed by both parties.
Longer coverage for youths. It would allow dependent children to stay on their parents' policies until they are 25.
Promotion of wellness at the workplace. It would encourage employers to reward employees for improved health.
Expansion of community health centers.
Mobile health care. It would allow Americans to maintain their specific health insurance policies when they lose or leave jobs.
In-home care. It would provide financial help and encourage more in-home care over institutions.
Limitations on malpractice lawsuits. There is general agreement over limiting such lawsuits, but a deep divide exists over exactly how much.
This House Republican plan comes a day after fellow Republican Rep. Mark Kirk of Illinois and other moderates in the so-called Tuesday Group released their proposal, which spelled out many of the same ideas as the Camp bill.
Kirk contends his plan is less partisan but said he supports Camp's effort.
E-mail to a friend

CNN's Lisa Desjardins contributed to this report.
All About Republican Party • Health Care Issues