From Elise Labott
CNN State Department Producer





WASHINGTON (CNN) -- This week, President Obama spoke in the harshest tones yet about the Iranian regime's violent crackdown against election protesters. But his administration is still walking a diplomatic tightrope in finding the right response to the crisis.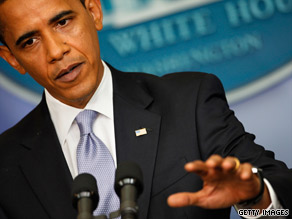 President Obama speaks during a news conference at White House on Tuesday.
The president's position has evolved since his first ambiguous comments after the Iranian election, in which he said he was "troubled" by the post-election violence and had "deep concerns about the elections." He went to great pains to say he didn't want the U.S. to be seen as "meddling."
He ruffled more than a few feathers in Iran and around the world last week when he said that when it came to U.S. national interests, there was little difference between Iranian President Mahmoud Ahmadinejad and his challenger, Mir Hossein Moussavi.
By appearing at first to be neutral, Obama faced criticism from Republicans, such as his challenger in the presidential campaign Sen. John McCain of Arizona, and also Sen. Lindsey Graham of South Carolina, who last weekend accused the president of being "timid and passive" in speaking out against the growing wave of arrests, violence and deaths of pro-democracy activists.
On Wednesday, Obama said "it was that bloodshed" that led him to speak in more forceful terms, saying he was "appalled and outraged" by the violence.
Yet "No-Drama Obama" made a studied response even as he described the "heartbreaking" video of Neda, a young Iranian woman who was fatally shot on the streets of Tehran.
Since the crisis began White House and State Department officials have said that the president was being careful to ensure his comments weren't used as a pretext by the regime for further violence. Obama himself said in an interview with CBS that he didn't want to be a "foil" for the Iranian regime to blame the United States.
But President Obama is nothing but a realist. In taking a cautious approach to the crisis, he is also maintaining flexibility to preserve his stated policy of engaging with Iran, in particular the prospect of direct negotiations with Tehran over its nuclear program.
Don't Miss
Officials acknowledge, at least during this current crackdown, rapprochement with Iran is unattractive, even unthinkable. Engagement, they say, is currently "on ice."
Secretary of State Hillary Clinton even asked U.S. embassies Wednesday to rescind invitations recently sent to Iranian diplomats to attend July Fourth celebrations.
Yet officials maintain long-tern U.S. national security interests are best served by having a dialogue with the Iranian government, even one led by Ahmadinejad.
Regardless of the outcome in Tehran, the U.S. and its Western allies believe the Iranian regime will be left in a weakened state. This, coupled with a changed Mideast political landscape, could provide a strategic advantage to the United States.
Obama's well-received speech to the Arab and Muslim world earlier this month, in which he promised to seek a Palestinian state and a comprehensive peace between Israel and its Arab neighbors, was followed by the election victory of the pro-Western government in Lebanon.

Watch tougher language on Iran from Obama »
Together, those shifting sands could roll back Iran's rising influence in the region, which has concerned not only the U.S. and Israel, but the Arab world.
As if to further manipulate the chess board, the State Department announced Wednesday the U.S. would send an ambassador back to Syria, after a four-year hiatus. The Obama administration has maintained engaging the Syrian regime could weaken Syria's strategic alliance with Iran.
In the meantime, Obama must walk a fine line between preserving America's national security interests and sitting on the right side of history.

Watch report on letter Obama sent to Iran before election »
For now, the leaders of the opposition do not seem to want the U.S. to do more than express support for universal principles and condemn the violence.
Yet the situation on the ground is dynamic and fluid. If the arrests, disappearances and deaths of democracy activists continue or increase, President Obama must be nimble enough to adjust his message.

He can also rally a coalition of non-Western democratic nations such as Turkey, India and South Africa to speak more forcefully in support of the democratic movement in Iran.
Obama's election and his Cairo speech were viewed as presenting a voice of hope and change, particularly in the Middle East. The Iran crisis presents this young president with an early test of his ability to deliver on those promises.

E-mail to a friend

All About Barack Obama • Iran • Mahmoud Ahmadinejad • United States • Syria