By John King
CNN Chief National Correspondent





Editor's note: On CNN's "State of the Union," host and chief national correspondent John King goes outside the Beltway to report on the issues affecting communities across the country.
COLUMBUS, Ohio (CNN) -- In bellwether Ohio, hopes for a new Republican beginning rest largely on two familiar faces from the GOP past.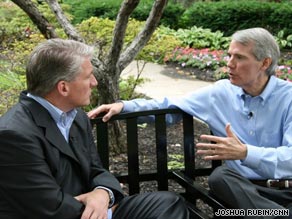 CNN's John King speaks to former Rep. Rob Portman, R-Ohio.
The governor's race in this state could potentially be the most important race in the country," says the man who hopes to be the Republican candidate, former U.S. Rep. John Kasich.
The GOP's candidate for an open Senate seat, former congressman and Bush Cabinet appointee Rob Portman, has been on the ballot in midterm elections before and frames the 2010 stakes this way:
"The 2010 election is going to be about the Obama agenda and the Democratic Congress agenda and whether they are doing the right thing and people will have to judge."
When a party is struggling as the national Republican Party is now, candidate recruitment is often a difficult task. But in Portman and Kasich, the Ohio GOP has two battle tested veterans with proven fundraising ability and TV-age communications skills.
Kasich faces a potential GOP primary but is the leading Republican candidate. Portman has no significant GOP opposition. Political science professor Paul Beck at Ohio State University says lining up two "impressive candidates" at such a difficult time for the GOP is a good beginning.
"That's often a problem for the party that is down," Beck said in an interview on campus. "Nobody wants to run. They want to wait until the climate is much more, much more supportive of people from their party."
One question, Beck and others say, is whether Kasich and Portman can cast their experience in Washington as an asset, or whether Democrats will succeed in labeling them as bound to a failed GOP brand.
Kasich was the House Budget Committee chairman and a rising party star during the mid-1990s, when Republicans controlled both chambers of Congress. He laughed when asked about the Democrats' efforts to paint him as part of the problem.
"I was the chief architect of the plan that balanced the budget, cut taxes, paid down debt and gave us the most prosperous times in the history of our country," he said recently between campaign events. "That is sort of a silly attack."
'State of the Union'
John King reinvents Sunday talk: more time for more politics.
Sunday, 9 a.m. ET

Mindful, though, of the party's national image, Kasich is quick to stress his independence.
"The Republican Party is my vehicle, not my master," he said. "I mean I am here to try to bring prosperity back to this state, to make sure families are better off. I'm not here to carry anyone's banner."
He is harshly critical of his party's performance after President Bush took office in 2001, the same year Kasich left Congress.
"They stopped solving problems," said Kasich, who after his House tenure worked on Wall Street and as a cable TV political commentator and host. "Whenever you don't have any ideas and are afraid to put things forward, you are going to lose energy. That's what happened to the GOP and frankly I'm as mad as anybody in this country about what they did in the last 10 years, or since 2001."
Portman represented the Cincinnati area in Congress for 12 years before joining the Bush Cabinet, first as trade representative and then as budget director. Those close ties to the unpopular Bush administration could make his break from the past more difficult.
While saying criticism of the Bush White House on spending issues is more than fair, Portman defends his record, saying it was on his watch that Bush began threatening to veto some spending bills. And he notes the Obama budget deficits dwarf those of the Bush days.
"When I was the OMB director, we cut the deficit in half," Portman said in an interview in Columbus as he made his way to a campaign event recently. "When I was there, by the way, the unemployment rate was half of what it is today."
Portman, like Kasich, says the GOP in Congress has failed to offer alternatives on a consistent basis.
"The Republican Party needs to have answers," Portman said. "You mentioned health care. The system is broken. The status quo is totally unacceptable. I agree with President Obama on that. I also disagree with his prescription because I don't think it is going to fix the very problems he identifies. ... We need to have a proposal out there as Republicans, and even if we don't, I'm certainly going to have one in this campaign."
Democratic Gov. Ted Strickland is up for the second term next year. Lt. Gov. Lee Fisher and Secretary of State Jennifer Brunner both are campaigning for their party's nomination for the Senate seat.
Beck sees a campaign centered on one defining issue: jobs.
"If we are a year from now, and the economy hasn't improved in a big way, I think the Democrats are in trouble -- and the Republicans are well-positioned to take advantage of that situation," Beck said.
A bigger question, though, is whether Republicans, in Ohio and elsewhere, can begin to reverse the troubling demographic shifts evident in 2006 and especially 2008: declining GOP support in the suburbs, among Latinos and among voters ages 18-29.
"It's an ominous future for Republicans," Beck said. "They're not doing well among young voters. I think young voters are not attracted by the old themes ... There really has been a mood shift in the country among younger people. and a bigger generational divide that I've seen. You really have to go back almost to the 1960s to see something that is comparable to today."
As the GOP tries to rebuild, its problems run deeper than the 2006 and 2008 defeats, or the embarrassing admissions of infidelity by two elected officials who had been considered potential 2012 GOP presidential candidates: Nevada Sen. John Ensign and South Carolina Gov. Mark Sanford.
Consider this snapshot of a 10-year GOP decline.
In 1999, Republicans held 223 seats in the House of Representatives. Now: 178. In the Senate, there were 55 Republicans in 1999, now just 40. And at the state level, in 1999 there were 31 GOP governors, now just 22.
"There will be cycles," Portman said, expressing optimism Republicans would learn the lessons of their recent defeats but also acknowledging their current slump. "I don't know if it is a pothole or a ditch or a canyon. I'm probably more in the middle ground there -- maybe the ditch category."
E-mail to a friend

All About Republican Party • Rob Portman • John Kasich